New Soccer Coach May Determine How Far Team Goes
Last year, coach Cruz Quesada, resigned as the girl's head soccer coach, allowing for Peter Fargo to take over the position for the 2017-18 season.
Coach Fargo is not trying to change the culture and mentality of the team, but enhance it to make a team with state championship aspirations an even better squad this season. 
"This is a different situation than the other times I took over a program. Usually a transition from a team to a new coach happened because of result," coach Fargo said. "It's easier to walk into a program like that and make a lot of changes and create a winning mentality, but with this team it's a little more different and complex. I'm not coming into a team that's not already getting results." 
Last year the soccer team was disqualified for playing an ineligible student in the Sweet 16 against Andress. The Tigers won the game which made this even more heart breaking for the team. The girls just wanted to move on and overcome the obstacle to prepare for this season.  
"The team really showed a lot of maturity and resilience to comeback from that adversity and keep their heads up," Coach Fargo said. " I don't see this as a hindrance or anything. It's something I would just have to tell them to move on from."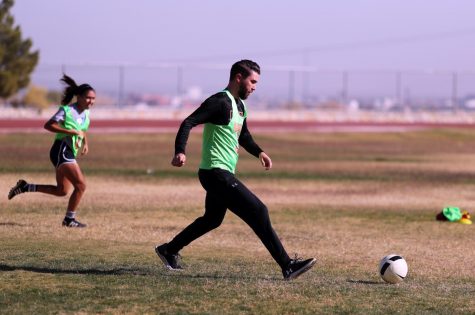 The Tigers are eager to get back to work in pursuit of their goal of making it to state finals. They finished with a record of 13-1 in district play and over all had a record of 20-5.
"The goals we all have as a team is to make it back to state. We came really close the past two years and that's something we all want especially the seniors since its their last year." Sophomore player, Sophia Fileto-Villanueva. "It's what every team wants to do but I feel like we can really do it."
Many of the girls are excited to have a coach with a little more of a background in the game of soccer, whereas Coach Quesada; a leader in his own right, had more of a football background.  Coach Fargo plans on getting the girls to take on better nutrition, work on their technical skills and cohesion.  
"Quesada would create simple drills that wouldn't focus so much on the tactics that I think we needed," Senior player, Victoria Fileto-Villanueva said. "Fargo is trying to focus more on the tactical stuff with us and is incorporating new stretches." 
Fargo previously taught at four different high schools and coached soccer at each one. He has a season of varsity girls soccer under his belt, the rest were boys soccer. 
"To me it doesn't matter if it's boys or girls. It's the sport that I love. You won't see me thinking of it as girls soccer. I think of it as coaching soccer," coach Fargo said. " I won't treat the ladies any different than I would my previous squads." 
Last year he took on the track coaching position. He plans on transferring use of the different energy systems, recovery, dynamic stretching and injury prevention from track to his soccer practices and warmups.
"In my warm ups for soccer, I'm doing different things I have never done before," Coach Fargo said. "I am more into preventative injuries now."
 Coach Fargo will be deciding who makes it onto the varsity team this November.