El Paso High Community Reacts To Walmart Shooting
On Aug. 3, 2019 an active shooter walked into the Walmart next to Cielo Vista mall and claimed the lives of 22 El Pasoans while injuring 40 others. 
The shooter, who will remain unnamed, surrendered after emerging from a vehicle that had been stopped at an intersection shortly after the shooting. The shooter wrote a manifesto specifically targeting Hispanics.
"I don't know any more than anybody else," El Paso High Assistant Principal, Dr. Warmack said. "He wrote a manifesto and was racist. He came to El Paso to target Hispanics."
Shortly after the massacre that ensued, El Pasoans came together and created a memorial outside the Walmart for the 22 lives that were lost that day. Since that dark August morning, people from all across the country have visited the site.
"I think it's beautiful that people are still going and still leaving their support. It really helps the family to heal," senior Itzel Tinajero said. "Although not everyone was affected by it, it reached their hearts and the memorial is evidence of that."
Some students have said that they feel like the city is not as safe as they previously thought it was. The students also said they are more conscious of their surroundings and the exits of public places.
"It's scary now, because everywhere I go, I have to check every exit and make sure I know where I can hide if something were to happen," senior, Mara Hunt said. "There is way more security everywhere and people are more careful where they go."
The border town of El Paso sits across from Ciudad Juárez, Chih. where thousand commute daily and combined population of over 2 million is represented by a majority of Latinx. 
"It makes me mad, honestly, because the blatant racism is awful," Hunt  said."That is an awful reason to want to cause harm to anyone."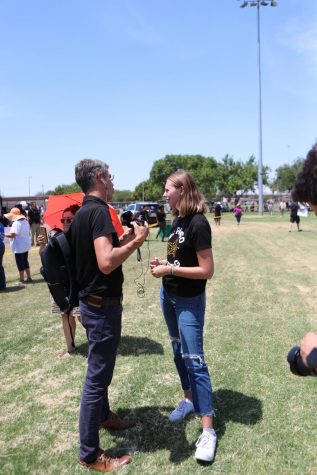 In light of this tragedy many students said that good has come out of this. They added that this event has made all El Pasoans more politically aware of who they will be voting for in upcoming elections. In addition, they also said that this tragedy helped all of El Paso form a sense of unity and togetherness.
"There are a lot of young activists who have a voice now. The tragedy just reaffirms their voice and there is a lot of passion to not only make a change," Tinajero said. "But to be conscious of what is going on politically and just being overall kinder and compassionate to everyone"
The fine arts community has played a big role in unifying El Paso in the weeks following the massacre. Many artists have come from all over the city and other parts of the country to help show their support. 
"I think artists have reached out and created a big art community to help people heal, may it be with poetry or music or physical art," Tinajero said. 
Below are the names of the 22 victims killed on Aug. 3.
Jordan Anchondo
Andre Anchondo
Arturo Benavides
Javier Rodriguez
Sara Esther Regalado Moriel
Adolfo Cerros Hernández
Gloria Irma Marquez
María Eugenia Legarreta Rothe
Ivan Manzano
Juan de Dios Velázquez Chairez
David Johnson
Leonardo Campos Jr.
Maribel Campos (Loya)
Angelina Silva-Englisbee
Maria Flores
Raul Flores
Jorge Calvillo Garcia
Alexander Gerhard Hoffman
Teresa Sanchez
Margie Reckard
Elsa Libera Marquez
Luis Alfonzo Juarez