Lending a hand: NHS raises over $6K in walkathon
The Cielo Vista Walmart shooting was one of the deadliest mass shootings in recent memory, taking the lives of 22 people on Aug. 3. In response to the event, the El Paso High School National Honor Society chapter organized a fundraiser, collecting over $6,000, donating the proceeds to the victims' families through the El Paso Community Foundation.
The entire community was affected by the shooting stoking a wide range of emotions from city with a near 80 percent Latinx population.
"I identify as a Latina," senior Ana Garcia said, "To see that we were targeted, it kind of hurt."
In order to do their part to support people affected by the shooting, the NHS officers put together and hosted a walkathon in memory of the victims of the Walmart shooting on Sept. 7. Each member was required to obtain five sponsors to donate any amount of money to support NHS walking 22 laps around the track.
"The walkathon was really important to me because I know some people who passed away in the shooting," senior  Emily Buen said. "It kind of just made me realize that this could happen to anybody."
NHS sponsor, Mr. Strange thought the walkathon was a necessary event to organize in order to show that EPHS is prideful about their community and aims to help give back to El Paso.
"Even before we came back to school, this was impetus. I mean, NHS is about service for the community and this was kind of a pervasive thing," Mr. Strange said. "It was an easy choice to do something and it seemed like the easiest way to give back."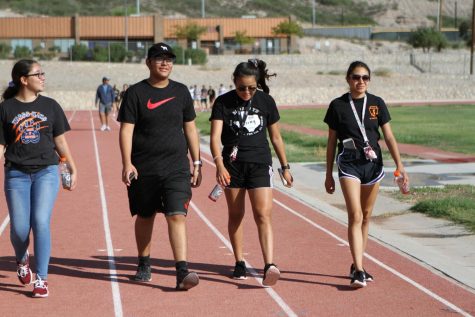 Some students came because they wanted to, some came because of personal reasons, and some came because it was required as a member. In the end, everyone left the track with a sense of connection and sympathy for those involved in the shooting.
"Prior to this day, I was really skeptical as to why we're walking 22 different laps," NHS member Jaime Gomez said. "After doing it and being able to be a united group with the rest of the National Honor Society, I think this is a really good a good way to get the community engaged with us."
While everyone had a good time walking with friends, eating snacks, and staying active, this event was much more than a social gathering to remember the fallen. It was a charity walk.
"I'm really proud of everyone who came in," Morales said. "It seems like a simple thing just showing up to off 22 laps," NHS President Isabella Morales said.
The El Paso Community Foundation has raised more than $6-million since the fund was created soon after the shooting.
 "We all just felt really bad and sad about what happened," Morales said. "So we just wanted to do something to lift people up and to bring unity to our community."
After the walkathon, some members expressed their pride in being part of a group that serves its community.
"The purpose of NHS is to help other people," Buen said. "It's to help us, high school students, to see the world from different lenses and contribute where we can."