Tigers Aim To Win Sixth Consecutive Battle Of The Claw
"The Claw" trophy has remained at El Paso High School for five consecutive years, the 87thedition of the game pits the Tigers and the Austin Panthers with playoff implications at stake.
"It would be  a huge win not only for the claw, but I mean we've held the claw for five years and we haven't been to the playoffs in about five or six season," junior quarterback, Zach Rodriguez said. "We would keep the claw and make the playoffs for the first time in a long time, so it would definitely be something that would be really huge for the team to do and a really big milestone for the coaches, the players, and the community."
With a win tonight, the Tigers would not only retain the trophy, but improve their playoff chances while jumping ahead of Austin in district standings.
Rodriguez will be playing in his first ever claw game as the starting quarterback, making it a challenge in itself.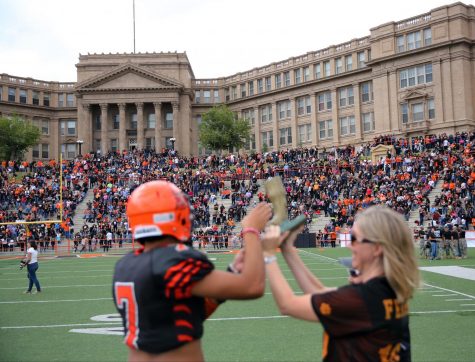 "It's definitely a little nerve-wrecking at times you know, you kind of just have to forget that it's a rivalry game and that it means this much. You kind of just have to think about it as another game," Zach said.
The defensive line is prepared to put forth their best effort to make sure the Panthers are not able to score. Austin are averaging over 200 rushing yards per game, if the Tigers can minimize their production, retaining the claw for a sixth consecutive season will be a real possibility.
Linebacker Santiago Candelaria is confident in his teammates abilities to do so.
"I feel really good about the team right now, I have Seamus Dewane at my back so right now we should be in a good spot. We just need to stop the run," Santiago said.
Santiago also said that stopping the run will improve their chances of winning the game because he trusts the secondary defense to aid him on the field.
One way to keep the Austin offense off the field will be to rely on their own rushing offense. The team has depended on senior Mario Chavez to take on this responsibility, and he is more than happy they do so, averaging over 120 yards per game.
"I'm appreciative of the fact that they trust me so much. They're always running the ball with me," Mario said. "It really means a lot especially since it's my last year, winning this game would solidify my career as a senior."