EPHS Keeps Halloween Spirit Alive with Haunted Tunnel Tours
Halloween is a tradition that dates back to ancient times when people carved potatoes instead of pumpkins. Dressing up for Halloween and playing spooky tricks on each other had not become a part of the Halloween celebration until the late 1800s. Since then, trick or treating and the Halloween day itself have become a staple holiday in America.
The most important aspect of Halloween is the thrilling activities and events that come with this holiday. Corn mazes, pumpkin patches, hay-rides, apple-bobbing, and haunted houses are popular among both children and teens. El Paso High has contributed to these activities by having their own haunted house, in the tunnels under "La High."
This year's haunted tunnel tours keep both the Halloween and the infamous cheerleader ghost spirits alive. The Tiger Theater group chose to have one of their actresses dress up as the ghostly figure from the class picture and allow visitors to take pictures with her. They also included a tarot card reading, which turned out to be the most popular aspect of the night.
The tunnels themselves were lined with decorations and jump-scares. Willing tourists were greeted with creepy horror scenes and stalked by mischievous actors.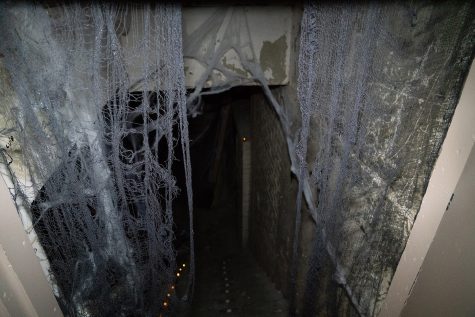 Ms. Christy Moss, the theater director, said her kids had a great time and that it was a good way for them to loosen up after all the stress they have been through.
"For the last two years, we've gone from being just a walk-through exhibit to an actual haunted tunnel tour," Ms. Moss said.  "It brings in more people because they believe El Paso High is haunted."
This year was one of the most successful haunted tunnel tours, due to the mass advertisements on the radio and all throughout the high school hallways. It is considered the scariest haunted tunnel tour yet, thanks to junior,  Nathan Chavez, the student-in-charge.
Nathan has been working at the WinkeyDoodles Paintball Adventures Terror Trail, a popular seasonal haunted maze in the El Paso/Las Cruces area. This job helped him put together ideas and supplies for El Paso High's haunted tours.
"Being a professional actor at an actual haunted house actually helped a lot because you already know what to expect," Chavez said, "the dangers to expect, you can inform the newbies about what's going to happen."
The process of getting decorations and finding people to participate was the hardest part, it took a month for it to all come together. Chavez said his main goal was to make sure the customers enjoyed the tours and that the actors were comfortable with what their jobs were. He wanted everyone to have fun.
The money raised from this year's tours went towards helping the Tiger Theater group pay for scripts, set supplies, and their end of the year banquet.