Tigers Taking Strides Under Second-Year Head Coach
The Girls Basketball Team Shows Toughness In Their Youth
After winning only four games last season, the El Paso High girls basketball team has already tripled their win total from a year ago.
The Tigers are 14-15 overall and hold a 4-8 district record under second-year head coach, Alyssa Faubion.
District wins have been hard to come by for the Tigers, and are in sixth place in district 1-5A, with losses against two 20-win teams in Burges and Andress.
They played close games against the Chapin Huskies, were in their first meeting lost a close contest, 36-35 and again 37-33 in their second meeting. District wins came against Austin twice and Irvin, all by over 20 points.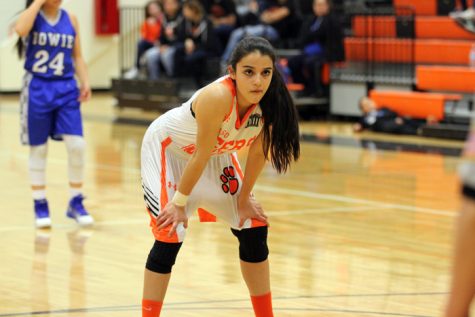 However, room for improvement was sought out before district play had even started. The Tigers had traveled to San Antonio for the Edgewood ISD tournament. Faubion, feels this experience helped better this team.
"I think playing people better than you raises your game, and I think going out of town has us see what other people are doing to get better," Faubion said. "How the talent is out of town because it's a lot different and we've never been out of town the first two years I've been here, so it should be fun."
Senior shooting guard, Andrea Aldaz, agrees that this tournament helps with seeing the different competition.
"Well in the past we've struggled and our games weren't that close, but now that tournament helped a ton and our games this season are a lot closer so that is a major improvement." Aldaz said.
The young team that carries three sophomores and one freshmen, sought improvement on the trip as they went on to win three of five games.
Aldaz is one of four seniors on the team that relies heavily on their younger players. Faubion understands that the pressure exists, but will be a positive thing to have when they become seniors.
Lluvia Curiel, a guard and the only freshman on the team also leads the Tigers in scoring, averaging 9.1 points per game.
"When I first started playing on my first game, I felt a little (pressure) but the team helps me overall as a player," Curiel said. "I go out there and play as smart and do as much as I can to give the team the best chance to win."
Last season, the team had two freshmen who were sought to develop and earn experience at the varsity level. Now sophomores, Mya Hernandez and Shanice Duckworth.
Hernandez averages 8.7 points per game, is seen as a potential long time contributor for the Tigers. Faubion enjoys seeing the lower classmen on her varsity squad for development.
"I love having younger kids on my varsity team, I love having freshman, sophomores because it gives them a lot of experience and they start to feel the pressure but it's good for them because by the time they're seniors they'll get it." Faubion said.
The past two seasons, the Tigers struggled, only winning a total of four games, most notably losing all 22 games in 2014-15.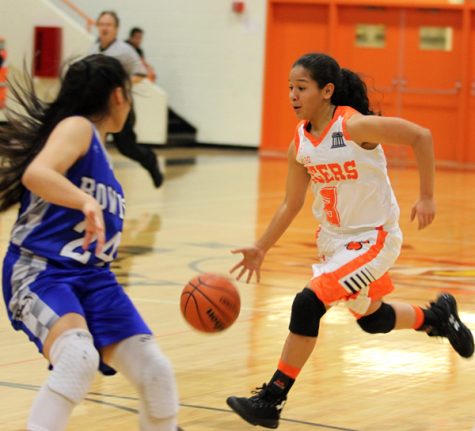 "To learn from our experiences as upperclassmen because we struggled our first years. We're seeing that our underclassmen really see what we can give them and what we've prepared for," Aldaz said. "Honestly we owe it to our underclassmen because they've brought us really far."
With only two games remaining in the season, the Tigers playoff hopes have ended, but with a young team who's showing improvement,  the Tigers will aim to make a postseason appearance in the near future.
The Tigers play at 6 p.m. tomorrow against Jefferson before wrapping up their season at home against Burges on Feb. 7.
"We are doing a lot better right now then we have the past three years, and since I've been here I've seen it all from the beginning." Aldaz said. "With coach Faubion, we have gone pretty far and she has dedicated her entire coaching life to just us and it helps us out as an overall team."