Father, son share bond on and off the field
Running back Lueranze Johnson has added a spark to the football team after transferring from Wisconsin last year, but it's what brought him to El Paso that makes his story that much sweeter.
Lueranze reunited with his father, Sgt. 1st Class Willie Ray Johnson, who's also an assistant on the El Paso High football team.
"Being able to play with my dad has been really cool. The environment was the hardest thing to get used to, but my dad has been a great coach and dad through the whole thing," Lueranze said. 
Lueranze suffered a wrist injury during the most recent game against Austin that could sideline him for the rest of the season. Him and his father remain optimistic, and are awaiting results from the doctor. 
"Lueranze has a broken scaphoid bone in his wrist," Mr. Johnson said. "We go to a hand specialist on Thursday, and we will be able to get more information about that."
Lueranze added that his dad has helped him through his injury.  
Since Mr. Johnson is not Lueranze's position coach, they set a boundary on the father-coach relationship. 
He has also been a fundamental member and his contributions have had a positive impact on the team. 
"He has been motivating us to keep playing and working hard everyday," junior and teammate Kevin Chairez said.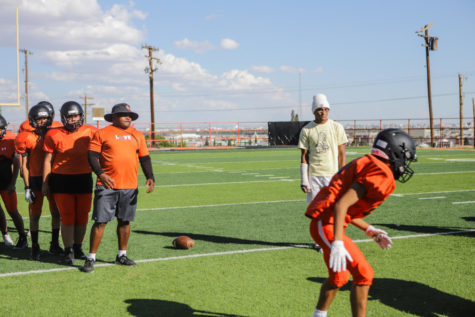 Lueranze has rushed for 601 yards and 7 touchdowns in four games thus far, most notably going for 259 rushing yards and 3 touchdowns in a home win against Hanks on Sept. 2. 
"I was on the sideline waving my arms and more excited about his touchdowns than he was. Lueranze is a tough kid, after an injury from last year he still went onto the field and performed," Mr.Johnson said.