Tigers begin playoff stand after undefeated district championship run
After an undefeated district season, the Tigers are 1-5A champions for the first time since 2017 and prepare to take on Horizon for the bi-district championship tonight.
They finished the regular season with a 31-6 overall record and were officially announced as the 2022 district champions on Oct. 21 after defeating Burges High School. 
"It feels really good knowing that all of our hard work is paying off," sophomore Amanda Mendoza said. 
The group is led by seven seniors, Marisol Banuelos, Andrea Vasquez, Emily Zamora, Navi Orpinel, Maddy McGuire, Diana Antunez, and Yuliana Salazar, plus last year's newcomer of the year, junior, Diana Wong.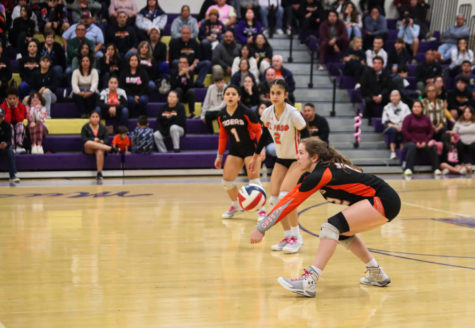 Team captain, Marisol, reached a career milestone after recording 900 digs. The veteran presence has helped the team dominate district play en route to the playoffs, something the seniors have embraced.
"As a senior I just think it makes me want to cherish it even more," Antunez said. "Every game we tell each other like enjoy it. Let's play to our fullest potential because it's going to be your last."
Although the team performed at a high level all season, their undefeated district record has not become a distraction, as they remained focused.
"I feel like it's still important to finish strong and not let that get to our head," senior Navi Orpinel said. "I don't really think about it as being like, I mean, this doesn't really comes to my mind when I play, I'm not like, oh, undefeated, but we have big shoes to fill. People are looking at us to be that team. So we're expected to just win."
The varsity team's success was felt by the other groups, as both junior variety and freshmen teams also won the district championship.
"I'm proud of us because we're a new team but we had to learn how to play together," junior varsity player, sophomore Alexa Madrid said.
The seniors continue to focus on the season, the time to reflect may have to wait as they look to make a deep run as the playoffs approach.
"I don't think we truly understand that we went undefeated," senior Maddie McGuire said.