Tigers aiming for first winning season in 6 years
As fall nears, so does the beginning of football season. For this year's El Paso High Tigers, their goal of making the playoffs may be more attainable than ever as head coach Ray Aguilar puts it.
"That's been the goal since I got here. This year, I think we're in the best shape that we've been in to actually accomplish that goal," Aguilar said.
The Tigers have not had a winning season since 2016 and hope to change that as they get ready to kick off their season against Gadsden on Aug. 25.
"For now we've been studying, going over film, and practicing really hard. This year we hope to make the playoffs and of course win more games for this season," captain Joshua Contreras, said.
Changes to UIL district alignments will now have Canutillo part of 1-5A as Bowie, Irvin and Austin drop to 4A. 
"Nothing much changes, the goals are still the same. No matter what team we play it is still another competition," Senior, Zachary (Zach) Mendoza said.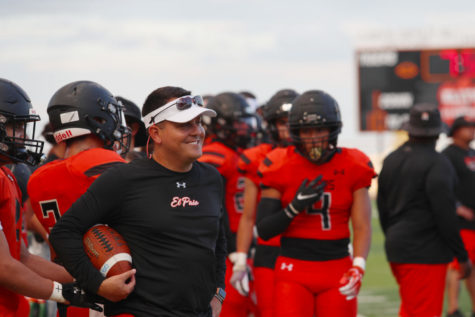 Head Coach, Ray Aguilar, says the team is in a good shape to accomplish all season goals.
 "We have an amazing group of seniors that have all come together and have built a really strong bond with one another," Aguilar said. 
Aguilar has seen potential from all teams, even the freshmen players who just joined during the summer. Players not only are working hard but are also working on communication.
"There is a lot of bonding between the guys," junior, Pablo Gonzalez, said. "Last year, I think we had a bit of chemistry issues on the team. Now we are working more on communication, it isn't just  a 'me' situation anymore, it's about all the team we are really growing all together." 
Zach, credits coach Aguilar for setting the expectations for the team culture.
"The team has really come together, our coach would preach about how everyone needs to put their selfishness to the side and become a team," Zach said. "For the most part, I think we have."