District realignment presents new challenge, goal remains the same for Tigers
The Tigers have not won a district championship since 2018 and although they've won bi-district and area championships since then, they still fell short of their goal. 
They started the 2022 season winning 19 of their first 25 games.
"We knew we wanted a different outcome for this season, so we've been preparing and working hard to accomplish our goal which is winning districts," Head Coach Yesenia Alarcon-Ortega said.
In addition, the competition looks different this year. Bowie, Irvin, and Austin all dropped to 4A with Canutillo now added to 5A via UIL realignment.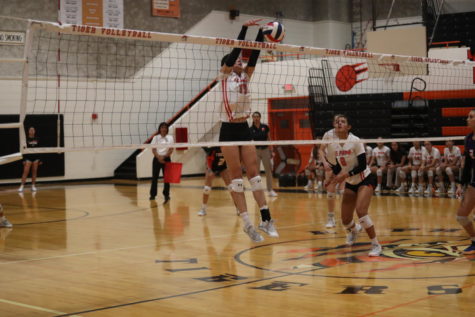 With that, the Tigers will now have to play each district opponent three times, instead of two times. The team had already expected Canutillo to be in the district this season, and is excited to have new competition.
"It will be exciting to see new faces and change it up. All of us are excited and eager to play them," senior varsity player Maddie McGuire said.
The team carries a total of 14 players with seven of them as seniors, none of which have been on a district championship team, something they're looking to change this season.
"Creating chemistry as a team is important because it's more than just playing, it's knowing who you're playing with," senior varsity player Navi Orpinel said.
Going into the season, the team has played multiple tournaments hoping to prepare them for upcoming challenges they might face in upcoming games. 
"I feel like we're a lot hungrier this year than we were last year," varsity captain Marisol Bañuelos said.
The Tigers head into today's match against Chapin with a 3-0 district record and currently in first place. 
"It's nice to see how good we respond to big challenges, and how we overcome them," Coach Alarcon-Ortega said. "We want to continue rising, and push ourselves to the next level."