The El Paso High Tigers are on the cusp of a new season, and their ambitions are higher than ever. With the first game just around the corner, the team is looking to make the playoffs for a second consecutive season under head coach Ray Aguilar.
"Our goal since the beginning has been to not only just make the playoffs, but we want to win a playoff game," coach Aguilar said.
With certain changes to the team going into effect this year such as the loss of last year's seniors and the addition of defensive coordinator David Cortinas. Manny Chairez, a senior defensive end, exudes confidence when discussing the coaching staff and the new defensive coordinator.
"I think he's pretty good. Coach Aguilar made the decision, so you know it's the best possible decision," Manny said.
Story continues below advertisement
Coach Aguilar gave a sneak peak into the team's strategy calling it a fast-paced, no-huddle offense designed to catch opponents off guard. The decision to forego huddles is deliberate, aimed at wearing down opponents.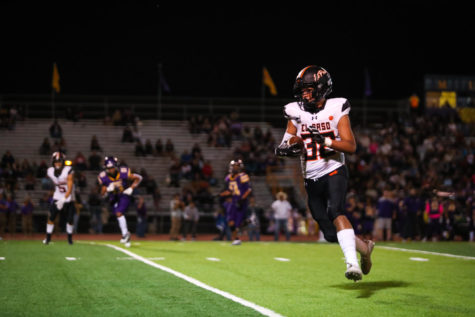 "Our goal is we want to tire them out by halftime," coach Aguilar said.
By playing at an accelerated tempo, they aim to exhaust teams that have players pulling double-duty on both sides of the ball.
"We try to play as fast as we possibly can and try to throw them off,"  coach Aguilar said.
On defense, they aim to apply pressure to the quarterback and disrupt the passing game. "We try to put a lot of pressure on the quarterback…we'll get some pressure on the quarterback for sure," Coach Aguilar added.
Chris Valenzuela, a dynamic running back has taken the team by storm due to his speed and strength, combining to make a revolutionary back for the El Paso High Football team.
"One of the main x factors, I think, will be the running back Chris," quarterback, Martin Gonzalez said.
With the first game against Gadsden High School tonight, the El Paso High Tigers fully believe in themselves and their teammates, with coach Aguilar pushing them every step of the way displaying confidence in his team.
"We're gonna win. I don't know what the score is going to be. It's always hard to predict a first game…like I said, for us this week is more about just going out and playing and being ourselves. I think if we can go out and just be ourselves then we're gonna have a good night and a good season," coach Aguilar said.