Tiger Swim Team Continues Winning Traditions By Elevating Expectations
The El Paso high swim team has had a tradition of state qualifiers and this year is no different; with more than 12 state qualifiers.
"I train twice a day and I try to lift weights three times a week," senior, Vittorio Kirken said. "I enjoy the teamwork and the thrive that all my other swim teammates have. The role that I have on the team would be as a motivator and the person that pumps up the team." Senior Vittorio Kirken said. "I expect to academically be hard as well as athletically which would teach me time management."
The Tigers have high expectations for both the boys and girls teams and with that comes the pressure to perform at every meet to live up to those expectations.
"We have two big meetings coming up in the next two weeks; to prepare the girls we really just try to keep them confident and make sure that they know they're going to be fine and swim well." Junior, Becca Perez said prior to their meet in Frisco, Texas. "My role on the team is to lead the girls, and help the freshmen and sophomores with whatever they need in the water and out the water."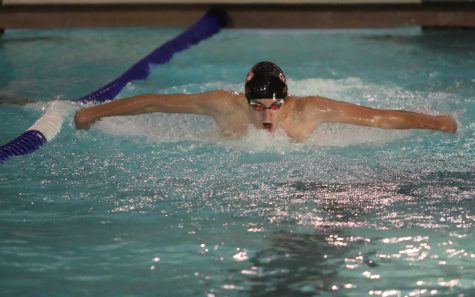 Some swimmers have been part of the team their entire high school life, like Junior Justin Piel.
"I've been in the swim team for three years. Last year I went to regionals, the team is really effective because it is successful not only athletically but also academically; and next year as a senior I hope to be able to become captain and carry on that tradition that allows us to win another District Championship," Piel said. "Hopefully by learning this and by all this time and effort that I've spent to this I will have the dedication to be successful in college."
Coach Farley's expectations are very high because the team has set those high standards throughout the year, it has demonstrated that even though the challenge to get better always remains for the swimmers.
"I think we've got one of the best swim teams that we've had in the last couple of years; we've got a lot of talent, we've got a lot of experience from kids that went to State last year, swimmers that have been on the medal stand before. Our expectations are very high, we really were a little disappointed last year with our second place finished at regionals and hopefully we'll do whatever it takes to have a shot at winning in regionals." Coach Farley said. "We always strive to be the best, we've had some early successes this season, we were top; the girls won the last couple of  meets and the boys won the Cathedral Invitational and so we've had some early success. If the kids keep working hard, and really keep pushing it, then we will have one of our best years."
Back from Frisco, Tx, the swim team brought with them the spirit of Victory: Vittorio, Branson, Mohammad and Robert got first place on the 200 medley relay, also Vittorio, Mohammad, Robert and Vincent won the first place on 400 medley relay. Robert Griffith broke a new EPHS record being able to finish the 500 free style in less than 5 minutes, since 1989.
Girls Becca, Emily, Mac and Francesca won the first place on the 200 free relay breaking a new school record. The same group won the 400 free relay by breaking a school record.
"This meet will prepare me for the competition in Regionals and State," Senior, Mohammed Abdeljaber said. "Being able to realize our mistakes now, will definitely make a difference later on."
Leave a Comment