Tigers Fall Short of Deep Playoff Run Despite Dominant Regular Season
Hopes for a deep playoff run came to a halt in heartbreaking fashion as the Tigers allowed the second goal in the winding seconds of a 2-1 loss to Lubbock Monterrey in the area round of the playoffs on April 3.
The girls soccer team completed their regular season with a flawless district record of 14 wins and zero losses fueled by redemption.
"I think this season we all came up stronger than some of the last ones; we all did what we were supposed to and made sure we were ready for each coming game." junior, Halle Lauterbach said. "Being in front of teams bigger than ours, playing against girls taller, faster or even better than you are, and yet be able to score, makes you feel great. You get more self-esteem. You also become mentally stronger and that helps you a lot."
With more than 92 percent of their games won, the Tigers once again proved what they're capable of, outscoring opponents with 93 goals to only 10 allowed en route to 1-5A district and bi-district titles.
They ended the regular season with a record of 22-1 and defeated Bel Air, 2-1, in the first round of the playoffs.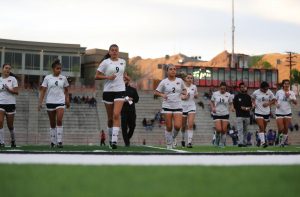 The Tigers followed a 2017 season that ended in controversial fashion as they were disqualified from the playoffs for playing an ineligible player in what many from the team used as motivation for this season.
"We didn't win all the games, but even when we lost a game, we would come back home wanting to get better, go to practice and stay later because our coaches and families were there for us," Halle said. "We all need that kind of motivation."
At the beginning of the season, the team went out aggressive and stronger than past seasons wining seven games in a row against teams like Socorro High and Victoria West High. The Tigers only defeat came in a 2-1 score against Brownwood in the Governor's Cup Tournament, but after winning against Monterey High, the girls' attitudes changed.
"This has been a great season, we all played the best we could and made so much effort, that at the end of the season, coming to practice and being tired most of the time, was totally worth it," junior, Cameron Thai said. "Even though this is my first year in El Paso High, I can feel I am welcomed to the team, the girls made me feel part of the family."
The team will graduate five seniors who now leave El Paso High with a bittersweet feeling having dominated their competition en route to the playoffs, but falling short of their ultimate goal.
"The whole team has wanted this for so long. It's not just one thing, the fact that we're losing so many seniors after this. It's our best shot," senior, Sonrisa Natividad said prior the playoff loss. "It's all or nothing at this point."