Tigers Comeback Attempt Insufficient
The El Paso High Tigers found themselves struggling early in the first half against the Hanks Knights coming up short from a comeback, the Tigers lost their first home game of the season on Sept. 8 with a score of 36-28.
The visiting Knights got off to a fast start scoring 16 unanswered points against the Tigers.
Hanks quarterback, Austin Guerrero, found Ever Chaves wide open for a 80-yard touchdown.
"[In] the first half we weren't mentally ready, we had a lot of penalties in crucial situations and then we were turning the ball over," head coach, Robert Morales said. "We weren't focused on defense and making tackles."  
The Tigers answered back with a score of their own after Shane Rodriguez punched it in from 5-yards out, the Tigers added a 2-point conversion, cutting the Hanks lead by half.
It was then that the Knights went on to score 17 more unanswered points, extending their lead to a halftime score of 33-8.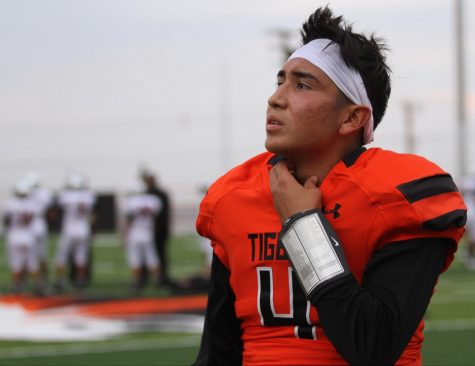 " We made too many mistakes we can't point fingers we all learn to correct those mistakes," Rodriguez said. "I need to step up we all need to step up we just didn't play a good game we all need to work on that in practice."
 The Tigers found the end zone once again late in the third quarter, when Rodriguez scored on a 4-yard run to begin their comeback attempt.
After a Hanks field goal the Tigers would again find the end zone early in the fourth quarter after quarterback, Anthony Escobedo, ran it in from 23-yards out, cutting the Hanks lead to 14.
The Tigers failed to convert on a 4th down attempt late in the fourth quarter giving the ball back to Hanks, but still managed to come within one possession of tying the game.
The Tigers dropped to 1-1 and will host San Eli next Friday in Jones Stadium.
"We didn't capitalize on the opportunities, we had the ball like five times inside the red zone, that really kicked us in the butt," Escobedo said. "We just have to have great practices and focus, no messing around, make sure everyone is on top of it and we'll be fine."