High School Students Witness Transfer Of Power At Presidential Inauguration
Hang on for a minute...we're trying to find some more stories you might like.
President Donald Trump was sworn into office on a cold and rainy Jan. 20, 2017 in Washington D.C.
After a day of academic activities in the nation's capital, my roommates and I woke up at 3:30 a.m. EST after sleeping only three hours. I quickly threw on a shirt, two sweaters, and my leather jacket. Breakfast was served at 4 a.m. then boarded the bus with other high school students from other parts of the world to head to the 2017 Presidential Inauguration.
I enrolled in the Envision Inaugural Summit program in March of 2016, when the election seemed to be favoring Democratic nominee, Hilary Clinton.
I was excited to attend the inauguration because I had seen President Barack Obama's on television and remember the tremendous crowds and the diversity of all the people. When Trump was elected President on Nov. 8, 2016, my family was disappointed, but I was optimistic that this trip would still be a historic and exciting experience.
Before heading to the national mall, our group went to the Smithsonian's Natural History Museum to stay warm. We were there for another couple of hours before we began our walk to a security checkpoint, which was one of the only entrances to the mall.
Security was surprisingly relaxed with no metal detectors, but once I made my way through the checkpoint, the first thing I heard was, "Hey, there's a sniper on that building." I looked to my right at a round building and on the roof's rim there were two armed soldiers in position.
I walked with my group of 23 high school students, because it was still early we got far up, but the stage still looked miniature in the distance. The Jumbotron near where we were standing was showing live video of Trump's car arriving at the White House to meet the Obamas.
I wasn't too far away from the capital and yet there was plenty of room for me to move around and I could easily leave the position where I was without having to ask people to move out of the way. The day before, all of the administrators at our hotel had told us the event would be packed with people shoulder to shoulder. This was not the case.
The ceremony began with the National Anthem being sung by Jackie Evancho. Then three different Christian leaders gave separate prayers, which I found surprising because all the inaugurations I had seen in the past were not as religious and had more diversity. After this, The Mormon Tabernacle Choir performed, followed by the Missouri State University Chorale.
It was finally time for the inauguration. As it has always been, Mike Pence was sworn into office first for his position as Vice President. Next up was the man of the hour, Trump himself. After swearing uphold the Constitution of the United States, Trump then made his speech.
The speech was surprisingly short and I recall my friend, Alex Mor from Houston, Tx. saying he wished the speech was longer.
It was a lukewarm speech. I liked his populist comments about giving power back to the people rather than the government. I was concerned that when he said he would bring jobs back to the American lower class, he was referring to things like the reopening of the construction of the Dakota pipeline, which he then signed an executive action to advance the Keystone XL, Dakota Access pipeline on Jan. 24.
"Together we will make America strong again. We will make America wealthy again. We will make America proud again. We will make America safe again. And, yes, together, we will make America great again," Trump said at the end of his speech.
The crowd erupted in applause. I worry that what he said are empty promises with no plan to back them up. The group only stuck around after the speech long enough to hear a Rabbi deliver the closing prayer.
We started making our way out of the crowd and back to the buses. I was disappointed that I didn't get to see any protesters, because I strongly believe in freedom of expression. While walking, there were people set up on just about every route out of the mall selling t-shirts, flags, hats and more, all with Trump's face and the words "Make America Great Again" printed on them.
I then heard police sirens as we arrived at our bus. About four cops shot past us and we were told they were going to arrest protesters. Once I boarded the bus, I had time to reflect on the ceremony and develop my thoughts.
This is when I remembered the quote often attributed to George Washington, "What is most important of this grand experiment, the United States? Not the election of the first president but the election of its second president. The peaceful transition of power is what will separate this country from every other country in the world."
I thought to myself, Donald Trump is one of the most controversial and unpopular presidential candidates to ever take office, yet the inauguration and transfer of power from one candidate to another and one political party to another went smoothly and peacefully. This is what makes America great.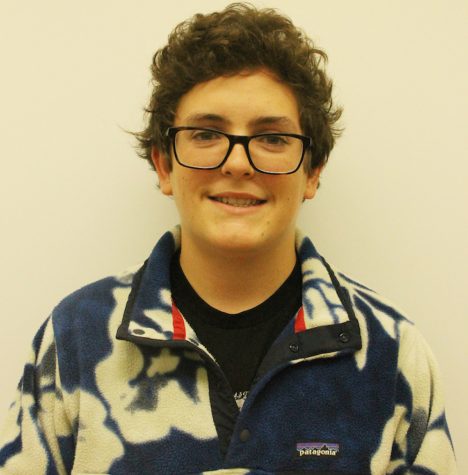 Joseph Horak, Editor-in-Chief
Hello my name is Joseph Horak, this is my first year in newspaper and I am a junior in the class of 2019.

I have wanted to be a journalist since elementary...