For the love of basketball
As the boys basketball team prepares for a playoff run, the theme throughout the season was love thy teammate.
This method resulted in team bonding and more effort from the players. Players expressed the camaraderie they shared and how it affected training.
"Everyone loves each other and has great chemistry, so we work well together," senior Christian Carrillo said.
The Tigers ended the regular season tied with Andress for second in district play. They will face them a third time tonight at Burges High School to determine the second place finisher. The will will host Bel Air and loser to play at Canutillo on Feb. 22.
After finishing the district portion of the season with a 10-4 record, head coach Luis Celaya would like for his players to think of the game as more than just wins and losses.
Coach said he looks at basketball as an opportunity for the students to grow and learn valuable lessons through the sport.
"It's about making sure that our individual players realize that there is more to life than just their individual goals, but how they do things as a group and as a team," Coach Celaya said "This way they can lead their companies and families and become very successful adults."
Senior Jackson Hayes said earlier in the season his main goal for the team this year was for them to make it to the postseason and to improve as a whole.
They did both, following a sixth place finish from the previous season after winning only five games to nine losses in district competition.
"I just love being with my teammates and pushing them to compete and try harder," Senior Jack Norton said.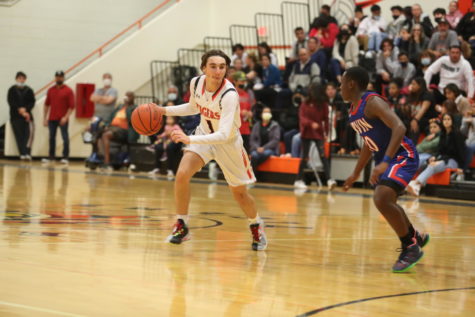 The Tigers had an opportunity to jump into first place in the district when they hosted Chapin on the Jan. 28 senior night contest, but the effort came up short keeping them in second place at the time and later losing 44-43 to Andress, dropping them to third place.
Nonetheless, the Tigers' hopes for a playoff berth remained alive.
"It's always an emotional time," Coach Celaya said. "The guys have been playing for longer than 4 years, some even since Wiggs. And I saw how excited they were to be presented on senior night along with their hard work."     
In a decisive battle on January 28th against Chapin for the finals, El Paso High Lost 53-76.
"We did really well you know, we went out there, the crowd was cheering, but in the end I'm glad our students tried their hardest," Coach Celaya said.