Tigers get first win in double OT thriller
Aim to use momentum going into homecoming game
Winning makes everyone happy, at least those in the receiving end of it.
Such was the case for the Tiger football team after capturing their first win of the season in dramatic fashion after defeating Irvin 41-35 in double overtime on Sept. 24.
"We've gone through some hardships the last 3 weeks. You know it was tough, and our kids were hearing some stuff and some negativity that they didn't want to hear," head coach, Ray Aguilar said. "Losing to Socorro was no fun but at the end of the day, it makes you stronger and it gives you that little bit of adversity that you go through."
The Tigers fell to Socorro 46-23 on Sept. 9, a team that hadn't won a game in nearly six years, losing on their previous 56 attempts.
The team then used their bye week to prepare for Irvin and it took extra time to get the victory, something coach Aguilar said the team had to take advantage of.
"We still had a chance to go to overtime and win the game, one thing is that there aren't a whole lot of second chances in life, and overtime kinda gives you that second chance and so I told them 'here is your second chance so go get it and go take it away from them' and that's what they did," Coach Aguilar said.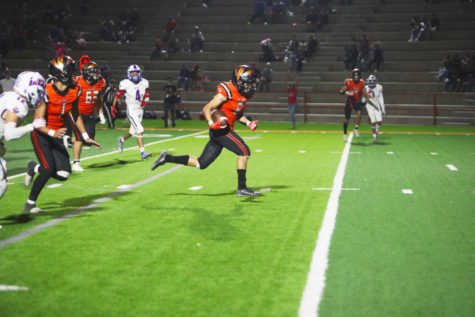 After early turnovers, the Tigers were able to keep the score close against the Rockets. Some acknowledged early game jitters as contributing factors for the slow start.
"I was pretty nervous going into the game but when we started playing the nerves went away," junior, Daniel Rodriguez said.
However, that panic and anxiety went away as they got confident on the field.
"Offense couldn't really get anything going right away, and it took them a while to get started," Daniel said.
The win against Irvin has some feeling confident going into the second half of the season.
"Ohh it felt surreal. Like it felt great like we finally did it," wide receiver, Christian Quintana said. "Finally, you know some people, you know, made our school proud."
Despite its 1-3, the Tigers enter homecoming week with an opportunity to salvage their season if they're able to win most of their district games scheduled after Ysleta.
"We're improving each game, we've put up better numbers. And that is just the goal of the season, to get better every game," Christian said.