A Ray Of Hope: Tigers Welcome New Football Coach, Athletic Coordinator
A new era of football embarks at El Paso High School with new head football coach and athletic coordinator Ray Aguilar. 
Previously, coach Aguilar has held coaching positions at the college level, including the University of Texas at Austin and UTEP, as well as various high school teams.
For the past two seasons he was the head coach at San Elizario High School, where he was recognized as the 4A coach of the year in 2018. Leading the Eagles to back-to-back playoff appearances, including six wins during his first year at the helm.
Coach Aguilar, a Coronado alumn, is enthusiastic about joining the Tigers.  He explained that his mother and extended family attended the Lady on the Hill.  
"One of the coolest things for me was the pride and traditions," coach Aguilar said. "One of the best stadiums in the country".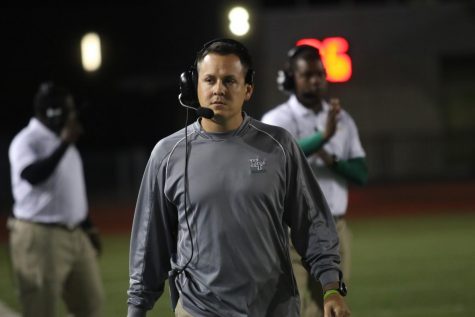 He takes over a Tiger football program that suffered a winless season in 2019 under coach Robert Morales who had been at EPHS since 2010.
This is a unique time for the school given the current situation due to the COVID-19 pandemic.  Although El Paso High will not be the only team facing these obstacles, it might be extra challenging to take over the team during a time he can't physically meet with his new players. 
This is a time teams partake in their spring football programs, important for coaches implementing a new system with new players.
"What we do in the dark right now is what is going to come to light on Friday night lights," coach Aguilar said.
Coach Aguilar is using different methods to communicate and coach his new team including the SportsView Application to hit the ground running. Ultimately coach Aguilar is conveying to the team the work is starting now. 
Junior, Ryan Peña, said his goal is to have a winning season. 
"I think I speak for everyone when I say we have high hopes and praise for coach Aguilar, we trust him,"  Peña said.
Because the team is unable to meet, everyone is doing their work from home.
"The only challenging part is that we can't effectively start this new culture over video call, but we're all working out and getting conditioned here at home and are looking forward to finally meeting when we can," Peña said.