Reading Matters, But Does It?
While an abundance of students at El Paso High have to read at least one book, play, poem, or short story in any English class, but the reading usually stops thereafter. The amount of people who read for fun has decreased throughout the years, which forces libraries to think of creative ways to attract students.
"When you are left to your own devices it can be hard to read independently, when we have other things that seem more entertaining or instantaneous, then it is hard to be a reader," EPHS librarian, Mrs. Jessica Silva said. "I think we are really used to instant gratification, which can be really hard to find."
Although reading for fun seems outdated, especially in a world where entertainment can be accessed on something as immediate as our phone. There are still some students and teachers who do read on their own.  While it's impossible to interview everyone in the school, a good number of students and teachers talked about their own experience and enjoyment from literature. 
"A general passion for culture in humanity. It is just so wonderful that we as readers, get to learn from writers who have gone through these immense journeys and learn from them," junior Celine Dipp, said.  "It is such a beautiful thing to be transported into new places, and new experiences, nevertheless understand vicariously through people's words and interpretation of the world." 
Many other students also identified with the same words Dipp expressed, the joys that can come from reading other people's perspectives and tales. Reading has not had a negative impact on anyone, but instead it has brought out brilliant things upon those who read.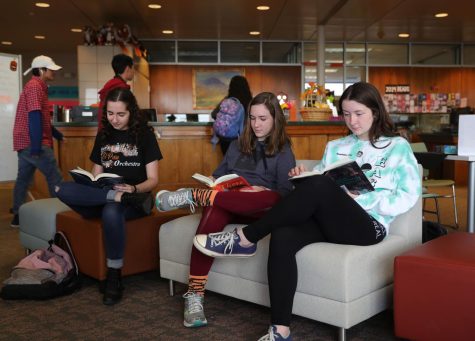 Senior AP English teacher Ms. Diana Frausto said the thing she has gained the most from being an avid and excited reader is, "Validation. Validation, of myself and those who came before me."
Emotion is not the only thing that can be brought from reading, knowledge is also a humongous opportunity reading brings to anyone. 
 "If I don't know how to do something, or I am in a conversation where I don't know something. Reading helps me learn about anything, and when I do have that knowledge from what I've read, I can have some input. I feel like if you don't read, how do you learn anything," English and Seminar teacher, Ms. Crystal Salcido said.
All of these students and teachers talked about their enjoyment of reading as if it were a steady habit that was endless. It not only helps them identify with their own well being and emotions, but it also brings a lot of knowledge that, if they did not read, would not be available and exposed to them. 
"I know there are so many good books that I should read or have to get to. So the more I read every day, the more books I get to get through. Reading gives you an opportunity to explore new ideas and different perspectives. Also, it makes you a better writer and more capable of critical thinking. I have a method of entertainment, whenever and wherever. It makes me feel like I can understand things better." junior Sergio Borunda, said.  
Now, although a lot of people do not read, reading is a habit that is for anyone and can be started at any time, no matter what age, how smart you are, or how much time you have to read. Reading is also accessible to anyone, it comes in various formats like audiobooks, ebooks, graphic novels, anything. 
The habit of reading can open various doors to great opportunities and mindsets. It has an influence on every reader, unlike other mediums. Whether it is a sci-fi book like "The Hitchhiker's Guide to the Galaxy" or a classic like "Fahrenheit 451" there are endless options for anyone to begin and start loving reading. 
"Reading allows me to escape to any other place, it also allows me to relate to a different amount of people and places," said sophomore, Abigail Galindo. 
The El Paso High School library is open every day from 7:45 a.m. to 4:45 p.m., Mrs. Parker and Mrs. Silva there to help anyone with book recommendations, and anything and all things reading. The library also has a book club that meets every Thursday. 
"Reading makes you a better human, you understand more about the world and about yourself. It creates empathy. It also can help you with all of your classwork, even in math, with word problems. It's like watching a movie or listening to music. Once you find what you like, it is a really great past time," Mrs. Silva said.