Tigers Showcase Their Artistic Talents at 10th Annual Chalk the Block
Chalk The Block, one of El Paso's most raved about art contests, featured two art-pieces that were created by four of El Paso high students.
This year's first place award  in the student category was granted to a piece named "El Macho" by Camila Abbud and Larissa Herrera, two juniors at EPHS.
This art piece highlighted the femininity in a man.
The portrait was that of a man's profile. There were entangled flowers flowing out of the side of the man's head. While bees poured out of the man's mouth. The background was a light hue of blue with white clouds scattered in representation of El Paso's sky.
The first place award came in the form of $500 but in accordance to Abbud, they gained something that would last longer and that is, "an experience that's gonna stick."
"It was a learning experience that has really empowered me to be more connected to community art," Abbud said. "Im grateful for the experience and I can't wait to apply next year."
"El Macho" was worked on for seven consecutive hours, from 7a.m. to 2p.m. With no breaks in between due to the fear of not being able to finish on timer.
For seven continues hours the girls had to kneel on the hard cement floor by the end they felt as if "they had just done 500 lounges".  Both Herrera and Abbud agreed that kneeling was the hardest part of the contest.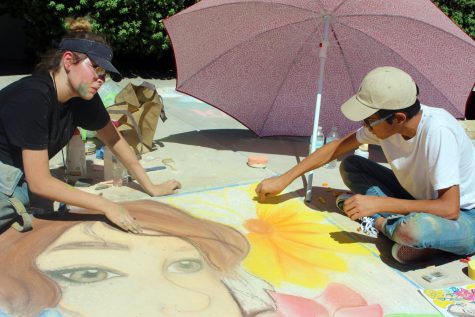 In the end, both girls succeeded in creating something that is sure to go down in chalk the block history.
For the past 10 years, Chalk the block has been luring in large crowds into downtown. Whether crowds assemble for the commerce, the art or just the family friendly atmosphere this event never fails to succeed.
In order to participate in Chalk The Block there is a process contestants must undergo.
First off you must submit an original drawing, based on creativity and talent the contestants will be elected. Admission into CTB is not something to be taken lightly; with over 80 entrees and only 15 slots it's only the crème de la crème that makes the cut.
Participants must attend a workshop before the contest where artists get to interact with fellow contestants all while being taught how to make their own chalk.
While buying chalk is permitted, making your own is more efficient since artists get to make the chalk the exact hue they'd like to use.
Contestants also have the option of bringing along four helpers to assist with the drawings. On Oct. 7 participants arrived downtown to their designated areas at 7 a.m. and work straight up until they are finish or the clock hits 3:30 p.m.
Four students from El Paso High took their talents to the streets to compete at the event.
Sophomore, Italia Maldonado, entered CTB with a very vibrant art piece. Her drawing entailed a girl's face surrounded with many bright multi-colored flowers. The portrait was named 'Narcissism'.
The polychromatic drawing was a real crowd pleaser. It gained the artists many compliments from the onlookers.
Maldonado said the best part was having people voice their positive thoughts on her work. One instance in particular stood out to the young artist. It was when a little girl ran up to her painting, stuck out her finger and pointed at Maldonado's finished work and said, "This one is my favorite…it looks like Belle."
Maldonado and her partner, Didier Perez, worked on their project from 7:30 a.m. until 3:00 p.m. Taking a few breaks in between painting to get away from the scorching sun.
The blazing sun was the hardest part, at least in Italia's opinion. However, her partner, Didier, had a different pinion in the matter he said that it was; "Trying to teach ourselves how to make chalk art because it was the first time we had ever done it." what proved to be the bigger challenge.