Senior loses arm in accident, friends act quick to save his life
Memorial Day became a day to forget for senior Diego Ordoñez who had a near-death experience after losing part of his right arm from a rollover accident. Friend Charlie Ruhmann acted quick applying a tourniquet, possibly saving his life in the process.
"We were on an ATV at night and just like going for a spin and the tires had lodged when we were about to get on Country Club Road, and the top right tire hit the curb, which caused us to start flipping," Diego said. "On one of the flips my hand and part of my arm was outside of the vehicle, which caused the entire weight of the ATV to like smash onto it."
Diego recalls remaining calm as he saw Charlie and fellow senior, Kaleb Andujo, in destress from the accident, crying and scrambling to find help.
It was then that Charlie took off his shirt and tied a knot around Diego's right arm to stop the bleeding.
"Kaleb, while Charlie called his parents and 911, held it (the tourniquet) for me until the paramedics came. I started to kind of hallucinate because of the blood loss," Diego said. "And I started saying stuff like I'm like goodbye guys. You know, like I said, I told them like see you on the other side."
After being rushed by the ambulance to the hospital, doctors quickly determined that Diego's arm had to be amputated. "At that point, I didn't really care. I just cared about like, whether I was going to die or not…I immediately said yes," Diego recalls.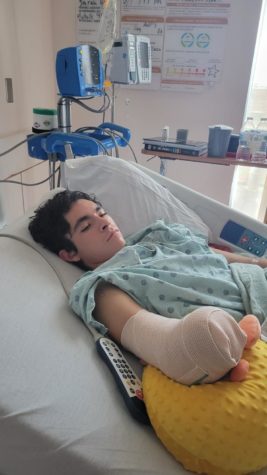 "I know it was God's will for this to happen. Because Charlie and Kaleb were able to save him until someone showed up. And it was the wee hours of the morning and the chances of someone pulling over to help were small, because they didn't have their phones," Norma Odoñez, Diego's mother said. "Someone showing up itself was a miracle because he would have bled out. So I know God did this for a reason."
Mrs. Ordoñez who's also El Paso High School's nurse, mentioned that Charlie had no previous CPR or first aid training and is thankful his friends acted quickly.
Kaleb remembers things happening in a hurry once they went off for a ride at 3 a.m. on Monday, May 29.
"I guess that things can go south real quick, like when we were there we thought we were just going to get back up and not talk about it and flip the car back over, but then it went from 0 to 800 real fast," Kaleb said.
Kaleb called the experience traumatizing, but is thankful they're all alive and credits Diego for remaining positive through it all.
"It honestly brought us closer together. It's been traumatic but we're all alive so that's the good part. Diego's positivity is helping everyone and bringing everyone's feelings up about the situation," Kaleb said.
Mrs.Ordoñez said she appreciates all the support Diego and the family have received since the accident.
"You never know how amazing someone is, until they have to go through something like this. We've learned that he's so loved," Mrs.Ordoñez said. "We knew he had a lot of friends, but the love being shown after this, the support is just beyond anything I could ever think that my child was capable of."