ICYMI: Girls soccer team repeats as champs, falls to Abilene in area round
The girls varsity soccer team repeated as bi-district champions, but it was tying with district rival Andress, for the co-district championship that proved to be the difference this season.
Although the Tigers finished 21-5 overall and 12-3 in district play, the two losses to Andress placed them as the second seed in the playoff bracket leading to the eventual 4-2 loss in the area round versus Abilene.
"We were really nervous because for a lot of us it was our first time in the playoffs. So I think a lot of us were nervous to play in the playoffs for the first time, but I think we could've played a lot better," left winger Katiana Worm said.
The Tigers faced Andress three times during the season, losing two of the matches and ultimately tying in district records after Andress lost matches to Chapin and Jefferson.
A share of the title was not something they planned on going into the season.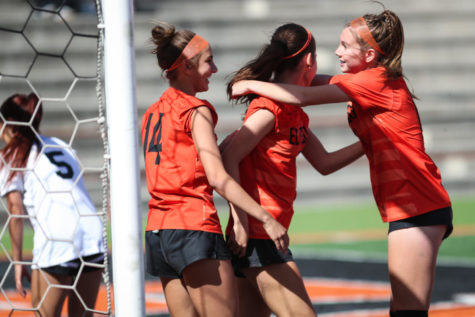 "We didn't seek out to share the title with Andress, but we're happy that we're champions nonetheless," senior captain, Caia Marcee.
The Tigers played against Hanks on March 23 in a bi-district championship where they dominated the match with a final score of 12-1.
"We worked super hard to get here, and it's something that we can enjoy together," senior captain, Emma O'Neill said.
Emma's younger sister, Tessa, led the team once again with 53 goals and 21 assists throughout the season, also earning district 1-5A offensive MVP.
"I give credit to myself but I couldn't have scored all those goals without my team. Sure I'm shooting but it took a lot of work to get me to the goal," said Tessa.
Tessa, a sophomore, is one of 10 underclassmen on the varsity team that has high hopes to advance further into the playoffs in years to come.
"Last year, we wanted to win more trophies and we didn't get that. But we were really hard on ourselves, we had a very young team," Tessa said. "So I think that building off of that young team, we're just going to take that and do better."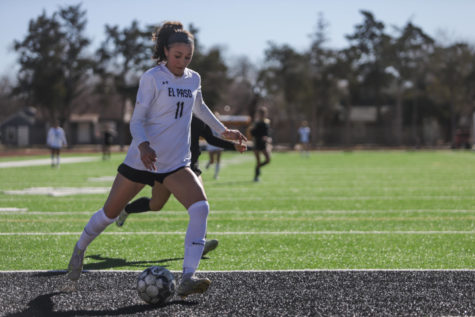 The team finished with 10 players selected to either the first or second all-district teams. Head coach, Peter Fargo, was happy to see the team succeed, but says they have an opportunity to improve and learn from this season going forward. 
"There's a lot of moving parts and a lot of variables involved so it's multifactorial. There's not just one thing that makes a team lose," coach Fargo said. "It's just a bunch of little things that just snowball and so you know you're always disappointed after a loss. We'll use these learning opportunities for next year and try to fix our mistakes."
The following members were selected to the 1-5A All-District teams:
First Team
Tessa O'Neill
Emma O'Neill
Caia Marcee
Kylie Alvarez (Freshman of the year)
Ashlee Rosales
Lila Aldrete
Second Team
Sophia Lopez
Lauren Varela
Katianna Worm
Doriela Norzagaray