Tigers heading to the playoffs for the first time since 2013
After a 9-year hiatus, the varsity football team is back in the playoffs after they defeated Burges 27-16 on Oct. 21.
The Tigers hold a record of 5 wins and 4 losses heading into their final game of the season against Canutillo. Getting to this point was something players in the team expected from themselves. 
"I definitely saw this win coming, we've put a lot of work into this season, when I came in, it was a completely different program from what it is now. We've really grown all together as a team," senior, Lueranze Johnson said. 
Lueranze, the team's leading rusher with 889 yards, was sidelined due to a broken hand and feared it could force him to miss the remainder of the season. He suffered the injury on Sept. 23 against Austin and returned four weeks later on Oct. 21 against Burges.
Quarterback, Gerry Chairez was also injured and forced to miss four games. His return sparked the team to wins against Jefferson and Burges after they had lost their previous three games.
"To be honest, it's an honor being back on the field with these guys being a part of the team and being part of the program with the coaches." Gerry said. 
After the playoff-clinching win against Burges, Gerry became emotional giving credit to his teammates.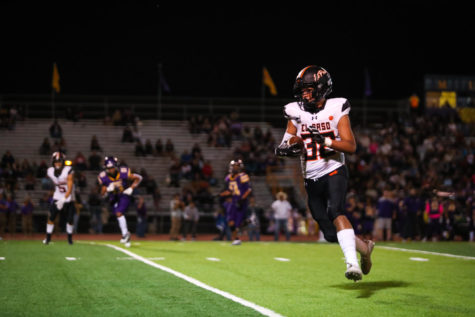 "They are like family to me. All of them, I see all as my brothers and I really missed being back in the field with them," Gerry Chairez said. 
Since head coach Ray Aguilar took over the team, they've improved their win total every year, finishing 1-4 in 2020, 3-7 in 2021 and now with five wins this season. 
Coach Aguilar, said they've had a good group of seniors that have worked to get to where they are right now. 
Despite the playoff seed being secured, the Tigers still have an opportunity to finish with a winning record with a win against the district leader, Canutillo.
"It feels good to have the team reach that goal. We've really gotten better since week one, a lot of injuries that we had to deal with as a team," Aguilar said. "But the young guys stepped up when they needed to, I guess they did what they had to do to help us get to this point and so I think we're playing our best football right now."