Youth springs Tigers into district championship
After winning the district championship in the regular season, the Tigers began their playoff run with an impressive 5-1 victory over El Dorado High School on March 24 to also clinch the bi-district title.
This is El Paso High School girls soccer team's first 1-5A district championship since 2018. 
They finished the regular season with 19 wins and 2 losses, including a 13-1 district record with their only loss to Andress.
Head coach Peter Fargo remains cautiously optimistic about the team's chances going forward.
"They've been working really hard and you never known what's going to happen, but if they play their game and they put forth a great amount of focus and stay level headed, it's up to them how far they go," coach Fargo said. "I don't want to put any claim on that, but I think we can do some special things in the post season."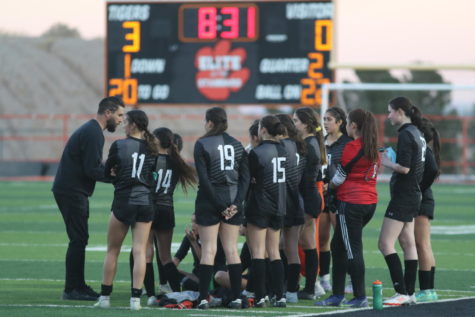 Although the team is young with six freshmen on it, they displayed confidence in their results so far this season.
"I expect(ed) to win the district championships and go beyond district, and hopefully win (the) area (championship)," freshman Lila Aldrete said.
The youthful presence the team carries has been led by the team's leader in scoring and assist, Tessa O'Neill, who's combine for 33 goals and 35 assists in the season.
"It's weird playing as a freshman on varsity because everyone is older than me and I'm playing with people older than me, but I like playing with my sister because I have someone there with me," Tessa said.
Beating Andress on the second match became the de facto district championship throughout the season.  
"They're our main competition. They beat us the first time and we beat them the second time. So just playing them is like this feeling," senior captain Ela Aldrete said. "Having their parents there they yell at us and stuff. It's just a good competition. It's a challenge and it always makes you want to win even more when you're playing against your rivals.
Several players from both teams already had rivalries from club play.
"It felt really good, along with the school rivalry there's also rivalries that came from the club teams," junior Emma O'Neill said. "Beating these specific group of girls felt good."
Although many of the team members are in club soccer, being able to represent the school is the most important part of competing.
"The thing I like the most is that I got to  fight for my school pride. It's not the same as a club because I feel like I have to win because there's just more energy and more intensity," Lila said.
Not only did the team work hard to represent the school, some are working to make their families proud. Siblings Lila and Ela are playing side by side for the last time.
"Playing with my sister is really different. I mean, we've played before together, but this year, it's my last year and it's her first year. So it's just really nice to have at least one year to play with her again and to just have the opportunity to spend more time with each other before the year ends," Ela said.
According to Ela, even though the team has experienced and made many memories, there were also many ups and downs that made the season hard. 
"The hardest part of this season was probably playing teams that we lost against last year and trying to beat them to redeem ourselves in a way. But we've been pretty successful in that , so we're doing good," Ela said.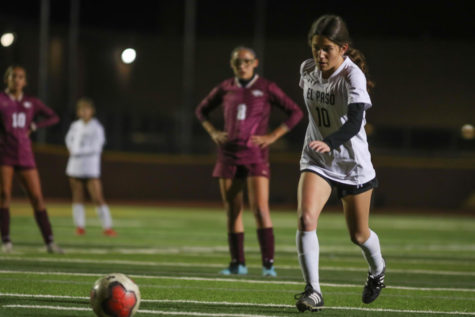 The Tigers take on Lubbock Cooper next in the area round of the playoffs, a place they envisioned being in from the start.
"I know a lot of people expected this, but a lot didn't because of how young our team is," Emma said. "I think we've lived up to the expectations."