Another one!
Tigers dominate district competition once again
The El Paso High boys and girls swim teams are once again one of the region's best after winning the 1-5A district championship led by captains Brayden Goeldner and Camille Davis. 
The wins became the 16th and 15th district championships for the girls and boys teams respectively since 1999.
"We all have big goals and plans for this year, hopefully they come true and this EPHS swim team could go down as one of the best in the history of EPHS swimming," Brayden said.
In the last meet of the regular season prior to district competition, the team traveled Andrews, Texas for the Andrews invitational. Both the girls and boys won the meet and set records in the boys 200 medley relay and the boys 400 freestyle relay. 
Brayden broke the meet record in the 100 breaststroke on Jan. 14, and then came back and broke his own record the next day on the same event. Junior Zyenna Martinez capped off a strong performance by setting the meet record in the 100 backstroke. 
"For now the team is set up to have a great championship season. This year, we were the only team in El Paso to have our boys and girls team when a city-wide meet. The girls won the Cathedral-Loretto Invitational. At these meets we swam every high school in the city and beat all the 6A teams to win the meet. Our championship season (district, regionals, state) started on Jan. 21 and our team won the District swim meet," head coach Patrick Gailey said. 
Despite the season being impacted by COVID-19 forcing some members to miss time, the team was able to perform at a high level while adjusting to new coaching.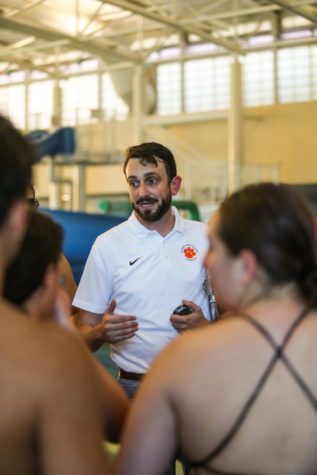 "One of the biggest changes that we've seen is just mostly coaching. Because last year, we only had about two months before we went into our championship season, and we didn't get to see a lot of our new coach Gailey," Camille said.  "This year, we're seeing a lot more of him and we are kind of trying to accommodate and get used to his coaching style, I guess just because we've had two coaches in the past four years and now there are three coaches. So just a lot of trying to get to know everybody and trying to align ourselves with what our coach wants." 
Coach Gailey was glad to know that not many of the team members would lose out on the district meet saying, "Fingers crossed everything ends up okay."
Joining a team that's established and has consistently competed at a high level can be intimidating for newcomers, yet freshman Jordan Scott welcomes the challenge. 
"This season, I want to go to regionals and qualify, also I would like to continue with swimming in the future because the people in the team are really nice, and it is very exciting to get up behind the block and dive in and have all your teammates there for you. The team is doing really well, I'll say we are the best team for sure," Jordan, said. 
For other young members of the team, the adjustments were not only to the team, but the sport altogether.
"I barely started swimming in sophomore year and now I'm a junior and I have done a lot of improvements since then.  I practice two times a day, morning, after school and I work out on my own. I want to continue with swimming and get a scholarship for Loyola University New Orleans. The swim team is a lot of fun, I get to compete with my friends, and I get along with everyone," Ezra Ponzio said. 
 For junior Ever Lopez the team is more than just a group of students jumping in a pool calling it, "mostly like family."
"I feel like I have a lot of swimming companions and everyone treats me well. While being in the team, I feel loved, welcomed, and safe," Ever Lopez said.
The Tigers will compete in the Texas regional meet on Feb. 7 and 8, pushed back from Feb.4 due to expected inclement weather.