Tiger Pride marching band reflects on Division I ranking
On Oct. 23, The El Paso High School Band, Color Guard, and Tigerettes participated in area competitions in Odessa, Texas after earning a division 1 ranking at UIL competition. 
"For area, we compete with bands in the 5A class across a certain part of Texas and to advance to area we have to get a one at UIL in El Paso to then advance to the regional competition in Odessa," senior drum major, Madison Bush said. "And then at area we compete with those bands from different parts of Texas, not all of Texas, to compete to make it to state."
The prospect of qualifying for state through area meant something to all the participating tigers and served as a driving force to practice more than they did before.
"Although state sometimes seems a little bit far away, we were very adamant about 'We're going to do great this time, we're gonna place higher than we did last time.'" Madison said. "And so, there was that, you know, everyone wanting to do really well at area. The best that we could do."
Even with the disadvantage of having only one band director, the Tigers still dominated. Veteran senior clarinet player, Gabriela Fuentes, spoke about the band's lack of resources.
"We are the only band with only one band director, literally every other band in EPISD, and Ysleta ISD, and Socorro ISD have at least two band directors," Gabriela said. 
Band directors aren't the only thing that the band lacks, though.  In fact, lack of resources and facilities seem to be a more prominent problem than most know. 
"We don't even have a band room right now," Gabriela said.  "We were supposed to have the new band room in the new fine arts building by this year, but it got delayed and stuff, we just don't have a band room this year."
After all their practice, the Tigers packed their bags and made the trip to Odessa on Oct. 22 prior to the competition. The Tigers' preparation is nothing short of challenging.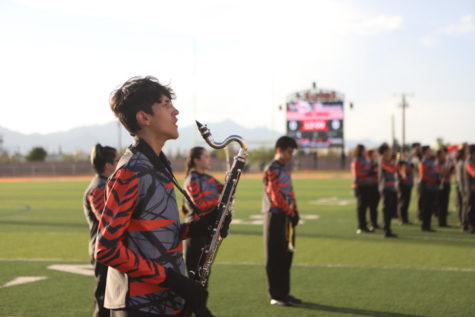 "The band directors draw names and that's like your order. So, if you go in the morning, you're kind of out of luck because it's colder." Gabriela said. "So, it's out of tune but we got lucky, we got, I think sixth. So, we played around nine."  
Weather and temperature are very important factors for these competitions as it can make or break one's performance. 
"With all the fast runs for like, the woodwinds, you know people do the fast runs, when your hands are cool, you can't move your fingers that well," Gabriela said.
Once it came time for the Tigers to perform at nine, they brought their best with all parties involved performing to their maximum.  
Senior color guard captain Trinity Guerra explained the color guard's job in the performance at area.
"Our job at area was just to be the visuals for the band. So, it was supposed to be like, 'Oh, hey, that's pretty, that goes along with it.'," Trinity said.
Though providing the visuals for the audience may seem simple to some, it most certainly is not, and there is a great amount of behind-the-curtain practice that goes into the process.
As for difficulty, senior Lindsey Williams commented on what the color guard's main problems are.
"I think there's definitely a lot of stage fright that goes into it because you're at area, you want to place higher, you want to go to state, but also our color guard is very small," Lindsey said.  "Our team is really small and a lot of the other schools that actually advanced to state had hundreds of people in them whereas we have like 50 people."
The color guard pushes themselves as much as possible for improvement, and faces great struggle, much like the Tigerettes do.
This being their first year going to area, the Tigerettes had a lot to catch up on and even more practice to do. 
Junior Andi Price told of the tigerettes' increased load of practice leading up to area and its difficulty.
"I think the hardest part was the practices leading up to it just because we had our regular dance practices on top of band practices. So, it was just very long days where we would get here at like 6:45 p.m. AM and wouldn't leave till like 6:30 p.m.PM." Andi said.
The tigerettes had their fair share of struggle as well, for a multitude of reasons which were simplified by senior captain, Ameera Hassan.
"This year because it was new, we really struggled with how to dance in the show because dancing as a dance team is completely different from dancing with a band because we have to dance around them or within them and follow their music," Ameera said.
The tigerettes had to make the adjustment of dancing to what they were used to, being pre-recorded music, to dancing to live music.  This was made even more difficult for the tigerettes as they had to make their own choreography.
"We practiced like crazy coming up with new choreography for them, because we were supposed to get choreography, but I guess there was miscommunication and we just didn't end up doing the choreography they had sent because they sent it too late, so we had to come up with our own which was really stressful," Ameera said.
In this area competition, the Tigers had nothing handed to them and worked for all they got.  They all came together to get the job done and place first in EPISD, a huge accomplishment.
"It was really nice, seeing how it turned out." Ameera said. "I'm thankful for band and color guard, for kind of including us as much as they did. They included us in their dinners, and like our senior shirts and stuff, they've been really inclusive, and I'm very appreciative of that."