Tigers testing 'mental strength', trail Burges, Chapin in district play
El Paso High volleyball has had a successful start to their season with varsity winning 16 of 24 games.
The Tigers are currently in third place in district play after falling to Chapin and Burges on back-to-back weeks, who are ahead of them in the standings.
"We are looking to limit our serving and hitting errors and build our mental strength," Head Coach Yesenia Alarcon- Ortega said after the Sept. 28 loss to Burges.
Despite the fact that the team has a history of success, they don't lack their fair-share of challenges. The team also lost six senior members from last year's group that has left a void to fill for the current team.
"It's been tough. The seniors last year were leaders on and off the court and they really took over the team," junior Navi Orpinel said.
She added Natalia Martinez and Marisol Bañuelos are members of the team who have stepped up to fill in the shoes of the seniors that were the leaders of the team on and off the court last year.
After winning the area championship last season the team is looking to build on that success in hopes to repeat. Without a go-to hitter the team has had different players step up each game, but coach Alarcon-Ortega remains optimistic the team will develop.
"Lack of experience is a challenge this team faces. It is going to be nice to see what happens when everybody steps up at the same time," coach Alarcon- Ortega said.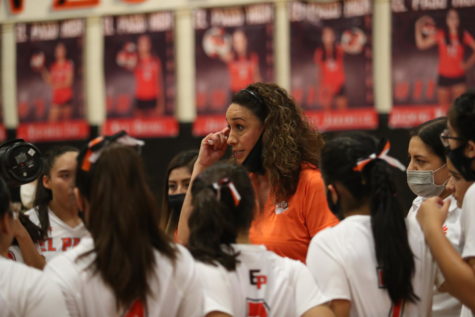 The team has used pre-district competition to build chemistry winning four of their five matches in an out of town only losing to Cooper.
"It wasn't only a payoff of our hard work but it also was a great time for the team to grow a bond bigger than before", freshman varsity player Hannah Garcia said.
The eight remaining games will be crucial for the Tigers to make a return trip to the playoffs as they are still slated to host matches against Burges and Chapin.
"There's plenty of season left and we're going to fix the mistakes we've been making." Alarcon- Ortega said.