Seniors lead Tigers to bi-district title
After the 2020 soccer season was abruptly cancelled due the Coronavirus outbreak, the Tigers missed on an opportunity to make a late season playoff surge. This season the girls came back to claim the 1-5A bi-district championship after a shut out of Del Valle 2-0 on March 26.
The team entered the area championship game against Wylie High School with high hopes of continuing the season and extending their playoff run.
"My hope for the next game, of course, is winning. But I hope that like every single girl has the mentality of we're gonna win and we're the better team," Brianna said. "Just having that winning mentality."
The Tigers playoff run included the return from two of their senior captains, Brianna Galvan and Lauren Lara, who were out late last season due to injury. 
"For me, it was very hard to come back. It took a really big toll on me, but coming back, I just did everything possible and took every chance I could to get better," Brianna said.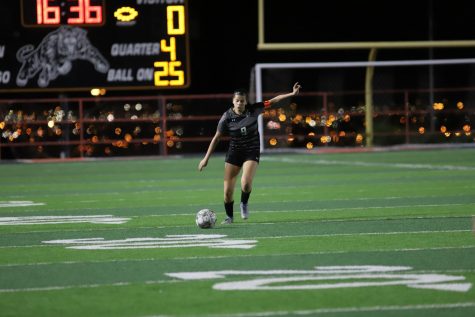 For Lauren getting back to the playoffs was part of a rebuilding process after losing over a half of the team's starters from two seasons ago.
"My sophomore year we lost 13 seniors and 8 of them were starters so we had to rebuild the team again, but I do think we have improved," Lauren said.
A return trip to the playoffs is proof of the improvement the Tigers made despite dealing with the obstacles the pandemic placed on social events. The victory over Del Valle erased the bitter taste from last year's cancelled season.
"It was really exciting. I was really happy when we won," Brianna said. "To think that last year we didn't and this year we did, it just explains how far we've come and how better the team has gotten."
Having a season did not fall short of uncertainty with games getting postponed or cancelled due to risks of COVID-19 exposure.
"Once high school season started, it was challenging to try to figure out if we were even going to have a season or if we were going to practice or how many games we're gonna have," Brianna said. 
Head coach Peter Fargo had high praises for the pair of senior captains after they returned from injury to complete a healthy season in 2021.
"They (Brianna and Lauren) were hurt for big portions last year but they definitely came back this year, really strong and we really returned a lot of people from last year. It was a pretty simple transition," Fargo said. "But those two girls stepped it up and did a lot better than they did last year. With the other senior Aliyah, she came back from last year, and she did well too and my job was easy. They did it, they rebuilt it themselves."
The veteran group is looking to keep their season alive, but didn't miss the opportunity to reflect on what they've accomplished and left behind. For Brianna who scored 33 times, over half of the team's goals in 2021, it will be the camaraderie she'll miss the most.
"I'm going to miss just having the bond with the girls, being close with Coach Fargo, and just being a part of the program," Brianna said.
Coach Fargo refused to take credit for the team's success attributing their accomplishment to its senior group of players.
"It's meant a lot because I feel like they've worked really hard, and especially with the upperclassmen. They've been working so hard and they had a goal to definitely do better this season and to try to win a trophy," Coach Fargo said. "I'm happy that they accomplished what they wanted to do and what they set out to do."