El Paso Fine Arts Gets A New Home
For the first time since 1994, El Paso High School's getting a new addition to its campus in the form of a new fine arts building. 
The building was a part of the EPISD bond of 2016 and due to COVID-19 it has experienced some delays within its construction, but the time has arrived for its completion of the building likely to come in early March.
"I cannot wait for students to see it. I think you guys will really love it," Principal Mark Paz said. "I can't think of another place I'd want to be singing or performing besides somewhere where I can look out over the city, it's very inspiring."
With all of the regulations and construction obstacles conquered, the building will be ready to open in the coming weeks, but the project didn't lack detours presented by the pandemic.
 "The hardest task in the construction is having more than two people on each job which means everyone has to be separated six feet distance," F.T. James Construction project manager, George Regrutto said. "On any given day however, we could have 50 to 70 people on the jobsite so that's one of the things we have to be aware of."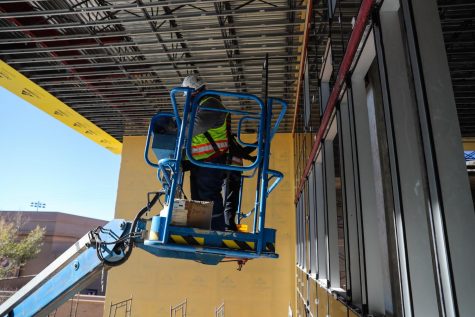 One of the biggest delays was continuously having to shut down off and on when an incident would appear.
"When one person on the worksite got sick, everybody had to shut down," Mr.Paz said. "You have different groups that come in, like one does doors, one does windows, and so on and when you wait for teams to come in you can get delayed by other obstacles."
Regrutto also mentioned that though the majority of the delays were related to the Coronavirus, some were caused by perfecting the minor details of the building. Because of how historic EPHS is, the design was made to match aspects of both buildings to blend them together.
"In 2005 the Historical Society made a mandate with new buildings saying that the coloring and bricking must match," Mr.Paz said. "This is why our new buildings have the same brown bricking as well as nice additions like marble finishes and elements of orange."
The building will also include glass walls, facing the cityline giving students and staff a scenic view of downtown El Paso and R.R. Jones Stadium. 
"It gives the people inside a beautiful view and really has an aesthetic look and feel, I think it will have a good updated feel but not be too overwhelming," Paz said. 
Regrutto mentioned how the glass wall is giving the rest of the building an impressive look that is starting to become more apparent as the building gets closer to completion. 
The outside of the building matches with the coloring of the cafeteria and the school building, and as it builds up the construction team is seeing it start to blend more.
"It's going to include more technology, more lights and even light fixtures on the floor," F.T. James Construction general contractor, Andy Nuñez said. "We didn't want the new building to look exactly like the highschool or else it'd just be like classrooms, but adding something new is what makes you look."