Coach Morales to retire after a decade of Friday night lights
After ten years of coaching the El Paso High tiger football team, head coach Robert Morales has decided to retire.
The decision to retire was not made overnight. It was something that coach Morales had thought about for a while now.
"I was actually considering doing this last year at the end of the season but I wanted to stay one more year with the senior group that we had coming back,"  Morales said.
The decision to retire has brought different reactions from his former players.
"I knew coach basically my whole life, he coached both of my older brothers and it was great to play for him. It's sad to see him go but i wish the best for him and his family," senior center, Ivan Barrios said.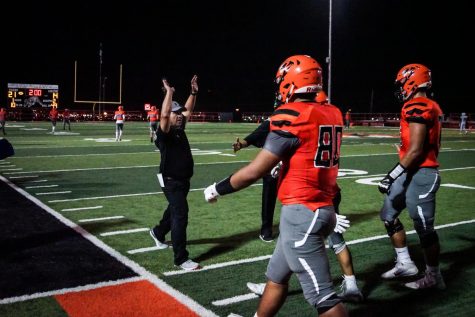 Junior Santiago Gallegos will remember coach Morales for his motivational speeches and positive outlook on the game.
"He's a people person. He gets along with everybody, he always has a smile on his face," Gallegos said. "He's a very positive person."
This positive energy Morales brought with him is something that senior, Santiago Candelaria, said will miss about playing for him.
"He was super pumped, he was always into it," Gallegos said. "His speeches that he would give before every game would get us all pumped up."
As he looks back on his career that included a 44-58 record and two playoff appearances at El Paso High, Morales is very appreciative of what El Paso High has done for him and his  experience.
"These were ten amazing years. I really enjoyed them," Morales said. "We have some great people here, especially the students and student athletes. It's a very special place. I'm glad I was able to finish my career here."
Although Morales is retiring from El Paso, he still plans to be involved with students, but this time it will be in New Mexico.
"I'm going to go teach in New Mexico," Morales said. "I want to do that before I get too old. I have some opportunities to do that (coaching), and I think I will."
As for the future of El Paso High football, Gallegos is hoping for a coach who can get the team back on the winning track.
"(I'm hoping for) some more discipline, some more hunger, somebody who's really hungry to turn this program around and make an impact on the community," Gallegos said.