ICYMI: Thespians Showcase Talent In Halloween Haunted House
At El Paso High, it's always spooky season, but on Halloween theater takes it a step further.  They set up a tour from the stage and into the basement, becoming a great way for theater students to engage and fundraise, but it wasn't always like that. 
"We were doing tours in the basement during the lockdowns, and we would do a haunted house down there. We didn't actually charge for that one." Theater Director, Christy Moss said. "From there, we decided to make it a fundraiser, and every year since then we started making fundraisers out of it, and it's just kind of blossomed."
The haunted house has served as place for those in the community and outside of it to gather for Halloween festivities. 
Ms. Moss said she loves seeing how excited her students get over the project which allows them to give new ideas every year.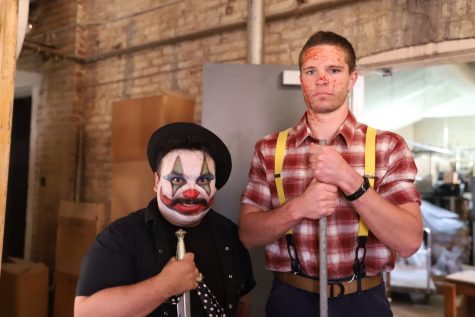 "It can be a little stressful at times but I think the kids love it. I mean like, if you see the theater kids they basically live here twenty-four seven." Ms. Moss said "But they anytime they have free time they're always here. You know they like being here, and they enjoy being around each other and, they seem to really enjoy doing this kind of stuff, you know, and being creative and doing their thing."
The event can be fun, but it came at its costs. Sophomore, Oriam Duenas Valles, got injured during the tunnel tour. He was one of the actors that was trying to scare the people that came through his section. 
"Well, first of all, the way I got it was I slid doing an act, and I ripped open my jeans and my knee. They didn't want it to get infected, so I had to stop doing my job for about an hour," Duenas said.
Regardless of the injury, the event was success as it allowed these thespians the opportunity to put their skills to the test and scare some people while at it.  
"The tour was amazing. I've only worked on it this year but I'm pretty sure that this years' tunnel tour was as great as the other years and I'd definitely work on it again if it was as good as this year," sophomore, Sixto Sanchez said.