Defeat to Irvin secures losing record as 'Claw Game' approaches
With the spirit of homecoming in the air, the EPHS Tiger football team took on Irvin High School on Oct. 4. Down 26 to 23 with under a minute to play, the Tigers late-game attempt of a comeback would fall short to leave the team still winless with a 0-6 record, guaranteeing a losing season. 
"Honestly, I feel devastated, you know, not coming out with the win really broke my heart, you know, but we fought to the end," Senior wide receiver and running back, Freddy Provencio said. 
The discouraging trend in losses makes spectators wonder why the team is struggling so hard to win this year. El Paso High School's Head Football Coach, Robert Morales highlighted some of the reasons for the team's struggles. 
"I mean, we're using the same kids on offense and defense," Coach Morales said. "They're getting tired as as receivers and defensive back."
The lack of depth on the team causes coaches to use the same players on both defense and offense causing players to become inevitably tired. Although the players work and play hard, their exhaustion leads the team to play less than their known potential.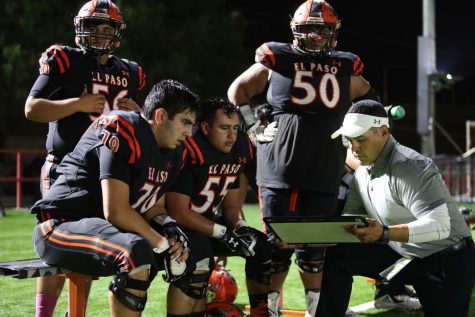 "You know what, this year has been about matchups," Coach Morales added, "And we match up better against teams that actually try and run the ball more than throw."
Coach also revealed that the team has focused primarily on running the ball. This has resulted in them only performing better against teams who play with a similar strategy.  
Senior captain and quarterback, Zach Rodriguez attributes much of the team's struggles to the change its endured over the off season. 
"There's a lot of changes, a lot of new coaches, a lot of like coaches switched positions, too," Rodriguez said, "Then we lost a lot of seniors, so it's just a lot of experience and leadership that we lost."
Despite the upsetting record, Rodriguez is hopeful for the rest of the season.
"Everything can change," Zach Rodriguez said, "I mean, anything can happen in the last little bit of the season."
The Tigers get to play Austin High School Panthers next for the Claw Game. The Panthers beat El Paso for the trophy last season for the first time in five years. Austin holds a 4-2 record overall and is coming off a 42-6 victory against Jefferson. 
"Austin is a big run team also," Coach Morales said. "So I think we'll match up better with them."
The Tigers are hoping to ride the momentum of the late game surge against Irvin to propel them against the arch-rival Panthers in hopes of an upset that would bring the Claw trophy back to El Paso High. 
"After the first half, we actually came back, you know, started focusing on what we needed to do," Freddy Provencio said, "And so going into next week, we know what we need to do is in the start of the game, and know how to finish."