Tigers setting up for district title chase
The 2019 varsity volleyball season got out to a great start. The team won 23 of their 26 preseason games and placed second in the Austin ISD Tournament. They carried that momentum into their season, defeating Canutillo, Austin, Burgess, and Andress before falling to Jefferson, Coronado, and Chapin.
The team was ranked as high as sixth on the Texas High School Coaches Association poll before their losses, something that has the team feeling confident as the season progresses.
"We're definitely going to be in the running for districts, it's just going to depend on how we show up to play a big game," head coach, Yesenia Alarcon-Ortega said.
The team has nine returning players and six that are new to the varsity team. With the experience of the returners they hope to carry the team deep into playoffs.
"I think we are all very close, because of how last year ended. And so, we have that chemistry of how bad we want to win this year's districts, and how we want to keep going after that." middle hitter, Laura Barrios said.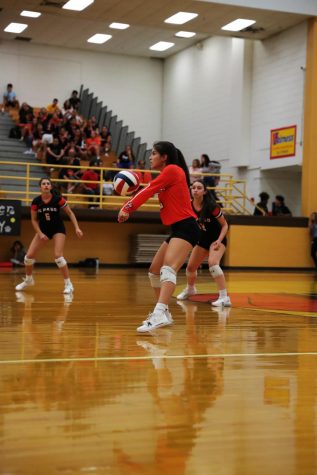 Last year the team fell short of repeating as district champions for the sixth-consecutive season. The team is primed to make another run at regaining the title this year.
  The newcomers along with the returning players have created a bond that has made them better as a team. Summer workouts helps introduce new players and gets them used to playing with each other even before the season starts.
"We are all really close and we are all a family and we feel like we can all depend on each other." setter, Melody Stout said.
The girls and coach Alarcon are very confident with each other and themselves as a team for this season. They have seen themselves improve tremendously from last year and become closer which benefits them.
"I know what they are capable of, and I know their potential, I'm probably the most confident with them." Alarcon said.
The 2019 varsity season is turning out to be a successful one. The team currently sits at 24-6 overall and 6-2 in district play with second meetings against Chapin and Jefferson that could decide the champion.
"Districts is definitely a goal of ours, a deep playoff run is another one, and then obviously to finish off the season as strong as we can." Alarcon said.
The girls continue to work hard every practice and every game towards their goals. They are ready to come out on top as the strong team they are.
"This year we are looking for revenge and to come out strong." Stout said.