Young Tigers Complete Flawless Season
After a long hard fought season, the freshmen boy's basketball team showed their tiger pride spirit and went undefeated for the first time in three years.
The freshmen team had a perfect record of 26-0 this year.
"They were challenged at the beginning of the year by Coach Bearden to beat our former record of 22-0, set by our current senior group," Coach Ronnie Collins, said. "All of our coaches had a hand in pushing them to get better each day. They accepted the challenge and went beyond to be 26-0."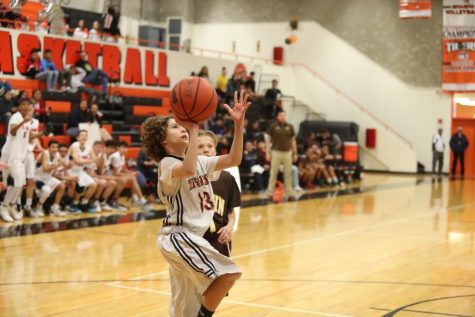 Being Coach Collins' second year coaching freshmen boys, this is his first season going undefeated.
"He's a great coach, he got on me a couple of times, but that made me better," small forward, Diego Cutler, said. "Him getting on you means he cares so yeah, probably one of my favorite coaches."
The team consisted of 20 first-year students. The players would compare themselves to brothers rather than teammates, to describe how well they all got along.
"Overall I believe that we did exceptionally well for a team with 20 players, everyone got to play good minutes for such a big team and it really showed what it felt like to be considered a brotherhood," power forward, Ziggy Zimmerman, said.
The team chemistry helped push the boys to victory. They all knew how to play with each other, and helped bring each other up.
"We're all really good friends and know how to work through tough situations," shooting guard, Christian Carillo, said
Coach Collins worked with his team to get everyone the maximum benefits and maximum playing time when they had enough participants to have four completely different lineups.
"It was a good season. The team has been together for a long time and it shows. We went undefeated and had crazy win margins, so yeah, the season was amazing," center, Jackson Hayes said.
This season came as a great surprise for Coach Collins and the team as they are thankful that it happened the way it did.
"I'm still trying to wrap my head around it, to be honest. This season was a true blessing," Collins said.
In the district, the team went 16-0, winning their last district game against the Austin Panthers.
"I think the season went really well. We were a very fast pace team and it felt amazing going 26-0," small forward, Gabriel Arreola, said.
Most of the team has been playing together on city teams, but some were new to the mix.
"He taught us a lot and really brought us together. He really helped us excel," guard, Christopher Torres said.