Tigers Look To Keep Momentum In Search Of Homecoming Win
As homecoming season draws near, the excitement is in the air for the homecoming game. The Tiger football team will look to win their ninth consecutive homecoming game and their first home win of the season against Hanks High School.
The Tigers head into their homecoming contest with a 2-1 win-loss record looking to end their non-district season on a winning note, this after defeating Bel Air in a comeback performance that turned a 21-6 third quarter deficit into a 35-21 victory.
"Homecoming is a special game for us and we want to win, especially because it's at home," senior wide receiver and safety, David Gonzalez said. "We want it to be our first win at home, since we lost our last home game. I don't feel that much pressure, I think we have it."
El Paso High holds over 100 years of tradition, and in the state of Texas, it distinguished itself as the birthplace of Friday night lights. Parents, students, alumni, and faculty come from all over to watch the special event and the team is feeling the pressure to play their best.
"Definitely, theres a lot more pressure, and it's my first homecoming game ever playing quarterback," junior quarterback, Zach Rodriguez said. "You can't really lose the homecoming game, it ruins the mood for everything else, so its a little bit more pressure…homecoming is just a little bit sooner that it was last year. We usually have more time to prepare for it just to get more into rhythm for the season, but as a team we are ready to play."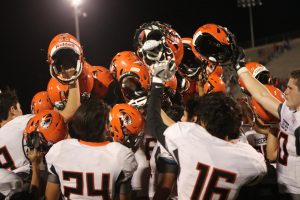 The Tigers look to avenge last season's home opening loss to Hanks with a score of 36-18.
"We lost last year against the same team and the difficulty is communication but other than that I think we'll be okay," senior wide receiver and free safety, Marko Kennedy said. "I think it not being anyone we play in district is disappointing, we wanted to do something special for that game."
The team keeps their eye on the prize and continues to go over their plays in practice.
"They are a bigger school and it is different for us, but I don't think it takes away from the game," junior wide receiver and defensive back, Freddy Provencio adds. "We're confident going into the homecoming game, we did lose to them last year but knowing our strategies this year, we are very confident."
The last three homecoming games have been against district rivals, however, this year the team intentionally planned to not play a district opponent. Head Coach, Robert Morales, said his reasoning behind this is for his players to not be affected by all the other activities that come with homecoming.
"They have to be focused at practice, us as coaches we got to make sure that they stay focused and helping them out that way," coach Morales said. "We didn't need all the outside distractions that come with homecoming to affect them mentally for this homecoming game…every district game is important."
Kickoff from R.R. Jones Stadium is tomorrow at 7 p.m.