When Art Meets Muscle
Students Showcase Their Talents In Weight Room Painting
Mrs. Garrisons third-year art students took their talents to display on school's walls, the outcome was an awesome mural that is now in full exhibition in the weight room.
A year ago, head football coach, Mr. Robert Morales asked Mrs. Rachel Garrison to do something about the bland walls in weight room and Mrs. Garrison requires for her students to participate in a community art project every year. This served as the perfect opportunity for the students to obtain their art project credit and in return coach would get his much-anticipated painting.
Coach had an idea of what it was that he wanted to be painted on his walls so the students went off of his ideas to create the image of what's now painted in the weight room, a tiger dressed in a football uniform fiercely charging up field.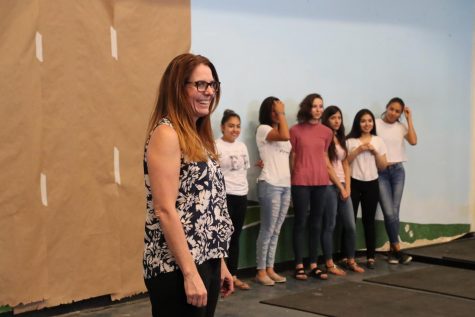 It took a total of four weeks of prepping and planning, plus an additional 200 hours of combined student time to paint the actual mural.
"It was an amazing thing hear all of the teachers and everyone who came see the reveal congratulate us,'' student artist, Ashley Avila said. "It felt really good as a student to hear adults, who usually yell at you and get mad say all these positive things."
However, what is now up is only the beginning the plan is to expand on the current painting. This would project would be set in motion around January of next year. The idea is to add the stadium as a backdrop for the tiger.
"I think the mural is incredible," Hunter Spear, one of the football players "it is awesome to have a celebration for our sport in a space that we use so often. It makes me proud and encourages me when I'm working hard in the weight room."