Mile-High Bound
Senior Jackie Balderrama Heads To The Rocky Mountain State On Athletic Scholarship
Sitting alongside her family members and teammates with tears rolling down her face, senior Jackie Balderrama, signs her letter of intent to continue her soccer playing career with Colorado State University on Feb. 7, 2018 in the historic El Paso High School auditorium.
Balderrama has been playing soccer for 14 years now and has played with El Paso High School since her freshman year, along with playing for school, she also plays club soccer.
The game of soccer has given Balderrama opportunities, after scoring 57 goals and assisting on 47 others during her time with the Tigers, that's led her to a Division I (D1) athletic scholarship.
"I mean I'm not the only soccer player that's stood out so at first it's a good feeling knowing that I'm representing El Paso, but there's a ton of other standout players that could possibly go D1 if not this year then next year," Balderrama said.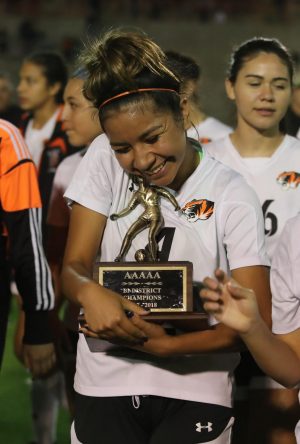 Going away for college is something that Balderrama has been looking forward to. Growing up in El Paso has also given her the drive to succeed, prosper, and play the best to her ability.
"I think my biggest encouragement was trying to get away from El Paso and try and make a name for myself," Balderrama said. "The chemistry and the atmosphere of Colorado itself is what I'm looking forward to."
In any sport or club people join, friendships are formed. Building that type of foundation has helped Balderrama play better due to the constant communication between teammates, and the trust within the team.
"I think the main thing I'll miss is the friendships that I've developed over the years. They're basically like family to me so I think that's going to be really hard for me," Balderrama said. "My greatest memory would have to be sophomore year, going in for Bi-Districts, we played against Chapin and we went into penalties and I just remember winning that game, and the first person I ran to was Natasha."
Junior goalkeeper, Natasha Worm, is a lifelong teammate and friend of Balderrama's. They have both played soccer together for eight years now and the game of soccer definitely has meaning in their friendship.
"We've been playing soccer together since we were 8-years old I wanna say. She's been everywhere and I can't get rid of her," Worm said. "Playing with Jackie is different. It's something like I've never seen before, I basically play with my best friend and sister all at once and it's been a blessing."
With Balderrama leaving away to college in just a few months, Worm has a bittersweet feeling towards this transition between herself and her longtime friend, but say the miles apart isn't going to change their friendship.
"When she told me she was signing I was not only sad because she was leaving, and the fact that I'm not going to have my best friend as close as I used to, but I was also very proud and I still am and no matter where she goes and what she does I will continue to always be proud and no matter where she's at I will always continue to be here," Worm said.