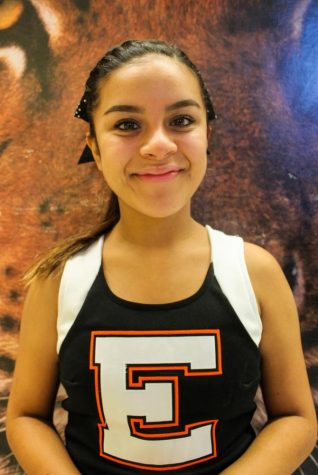 My name is Leila Santa Cruz. I am a Junior here at El Paso High School. I am also a Varsity cheerleader, in student council and broadcast journalism. I have attended El Paso High since my freshman year, and have made many friends along the way.
My freshman year I was on the Junior Varisty cheer team and it was a really good experience since I've done cheer most of my life. I had tried out again the following year and made varsity as a sophomore. Last year, El Paso High turned 100, which led to series of events that were pretty memorable in my case. Being a cheerleader meant a lot to me, especially since as a squad, we were involved in many events leading up to our big centennial celebration.
I have also been in student council since my freshman year, and being involved with school is a great way to help the community out and make sure we're doing our job to make our school a friendly environment, but also keep it spirited.
My sophomore year, I was put into journalism and I really enjoyed it. We learned a lot about interviewing people, how to write a lead in a story, and how to work a camera at times. It interested me to want to join this course again because I feel more involved in school, and I get to learn more about journalism and how it works. I am also in broadcast which I am very excited about because it is more of audio and photography. Being involved with these two classes will help me be a better student journalist because of how these classes work, and how I'll learn from them.
Leila Santa Cruz, Staff Writer and Photographer
Apr 10, 2018
Dec 19, 2017

Tigers Choose Comfort Over Style For Fall Fashion

(Media)

Nov 30, 2017

Familiar Face As New Student Activities Manager Embraces Challenge

(Story/Media)